The strange case of Kim Jones always wearing Miu Miu
Does competivity hyme with gratitude?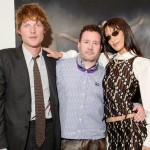 That today's creative directors are true hybrid figures between fashion designers and celebrities is almost a given. There are those who prefer to take refuge in a simple black uniform (see Rei Kawakubo, Yohji Yamamoto or Rick Owens) and those who are faithful regulars of their brand as Alessandro Michele was during his years at Gucci and those who, on the other hand, throw appearances to the wind and simply wear what they like. This is what Kim Jones has been doing in recent times, who, according to rumors going back a few months, bought Miu Miu's entire FW22 collection as soon as it came out (to listen to some, even before it was released but this is invertible). Miu Miu's appreciation also spread within the Dior Men team since two pieces from the collection, the brand's Cable-Knit Cardigan and Chino Blouson Jacket, also appeared on Thibaut Denis, the brand's footwear designer as well as the owner of one of the best wardrobes in the entire industry.
What makes the fact remarkable is that Jones does not wear his Miu Miu wardrobe in the privacy of his home or in stolen streetwear shots, but on official and highly visible occasions. During the last Dior show presented in Cairo, for example, Kim Jones appeared on the finale in a striped shirt with the Miu Miu logo paired with an Aman Tokyo hat and a watch, presumably a Rolex, tied above the cuff as Gianni Agnelli used to do. Just as, during Fendi's FW23 show in New York, Mr. Jones wore an argyle sweater and a pair of the brand's raw-cut bermuda shorts. Even when Annie Leibovitz photographed Jones and Marc Jacobs for Vogue, at the official announcement of the mega-collaboration with Tiffany & Co. and Jacobs himself, the designer wore Miu Miu along with his Dior sneakers. Marc Jacobs is definitely another designer who does not hide his taste in fashion and wears clothes from other brands without qualms. Scrolling through his feed reveals an incredible showcase of looks ranging from Balenciaga and Rick Owens to Prada and Celine. Both Kim Jones and Marc Jacobs, but among these examples we could also include Thibaut Denis, represent a progressive mindset in today's fashion, which is totally addicted to the total look so much so that we fear the death of personal style.
Other designers who are lovers of other people's brands include Virgil Abloh, a lover of Arc'teryx and many other independent brands; Karl Lagerfeld famously directed Chanel and Fendi when he decided to lose eighty pounds and squeeze himself into a Dior suit designed by Hedi Slimane while Raf Simons wore a Prada jacket in the scenes of Dior and I, showing how much the brand he would direct more than a decade later was already passionate about him. The ability to mix different garments and brands, coming as much from mega-luxury as from archival and vintage, is after all the true indication of the creativity and open-mindedness of a prominent creative in the industry who does not get imprisoned by the strict dictates of slavish loyalty to his own brand.