How digicams overtook fashion campaigns
Heaven, Balenciaga, Skims, Tommy Hilfiger and the rest of the world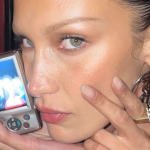 From the gothic sensuality of Nicola Brognano for Blumarine, to the post-punk denim of Diesel by Glenn Martens, via a new wave of skimpy suits by Miu Miu: Milan Fashion Week showed us that we are still not tired of low waists, crotch skirts, exposed navels and metallic patterns. On the contrary, after two years of nostalgic and posh collections, Y2K fever has invested not only clothing, but also the lens we use to tell their story. Blurred images, flashing lights, grainy or out-of-focus videos that seem to come straight from a low-budget indie film or a debauched party: the same technological means that crystallised our childhood memories in family albums are now the spokespersons of a very precise and increasingly sought-after aesthetic. This is the trend of digicams, the digital cameras produced between the 1990s and the early 00s, and the devices that have transformed the way we experience photography, no longer for a few and subject to analogue whims, but a global, unlimited medium, open to all, especially when conveniently incorporated into a portable phone.
Five years ago Kendall Jenner was showing off her Contax T2 at Jimmy Fallon's show, two and a half years Frank Ocean was covering the Met Gala for Vogue with his trusty roll camera: these were the years of the analogue revival. Not just headphones and mobile phones, nostalgia for bygone technological eras also involves film and camcorders, both for celebrities and established fashion photographers. From Rory Kramer, who opened an archive account for his analogue shots, to Tyler Mitchell, who turned up at last year's Met Gala in a total Bode outfit and with a Yashica around his neck, via Tom Holland, Zendaya, Peggy Gou, Chris Hemsworth and Emily Ratajkowski, just some of the celebrities who have been portrayed in recent years with an Olympus or a disposable Kodak in their hand or around their neck. But the time has come to rediscover a new technological era. Everything from the vivid low-resolution campaigns of Heaven by Marc Jecobs to Balenciaga's VHS footage in collaboration with Harmony Corine, via Tommy Hilfiger's new video with Jon Batiste, oozes Y2K, a mix of grainy finish images that make any image an interesting grunge relic from a few decades past in perfect Indie Sleaze style.
Fans include Kim Kardashian, Addison Rae and Hailey Bieber, Bella Hadid while on TikTok, the 'teenage dirtbag' trend is all the rage with 259.4M views, in which celebrities and non-fans alike recount their teenage years to the tune of Wheatus' 2000 song, using digicam images. Reddit brings together a lively niche of enthusiasts, a fast-growing community ready to exchange tips and opinions discussing the main differences between one model and another, while Ali, of the YouTube channel 'One Month Two Cameras', has gained a sizeable following thanks to her valuable reviews of vintage digital cameras, such as the famous Leica M8, alongside lesser-appreciated gems like the quirky Olympus E-1 and DXO One.
In the era of high resolution, in which any smartphone has the peculiarity of being able to take a professional image and in which anyone with a little imagination could improvise as a photographer, the most fashionable technological accessory is no longer the latest release, a sterile show-off of one's purchasing power and megapixels, but anything that appears unusual, dated, vintage. If in the past photography has known styles and trends reserved for industry insiders, today the democratizing power of social media and TikTok tutorials (and a feverish eagerness to create content) has made trends in this field too readable and replicable. Gen Z and Millennials take refuge - driven by childhood memories of cassette tape cartoons, Tumblr, MySpace, of a record player instead of a radio - in a technological era far enough removed to be historicised and return in the form of a trend, as if reality appeared too sharp and cheesy through current technologies and there was a forced need for a filter to romanticize a shabby present.