Fashion Nova plagiarized Jean-Paul Gaultier again
This time it was one of the "nude dresses" created in collaboration with Glenn Martens
The success of fast fashion is based on imitation of fashion, the faster this imitation is the more market trends that have emerged from the fashion seasons arrive and spread to the public. The only problem: in the continuing rush to imitate great designs are turned into cheap versions of themselves. This is what happened these days at Fashion Nova, which recently put on sale a fitted sheath dress with a "thermal" print of a nude female body that is a clear copy of one of the looks from Y/Project's collaboration with Jean-Paul Gaultier for the brand's FW22 collection. The look had gone viral within minutes of its appearance on the runway, and this was because it reproduced a historical Gaultier print imitated by so many. Incidentally, just such a print, that of the naked dress produced by Gaultier together with Lotta Volkova, had been accused of being a plagiarism to Spanish designer Sergio Castaño Peña, who had been inspired by Gaultier himself for his designs.
This is not even the first time Fashion Nova has copied Gaultier: in 2020, a set of Fashion Nova t-shirts and pants bore a vintage-style print that was copied from the Billet de Banque print that first appeared in Gaultier's SS94, the famous tattoo collection, as did a fitted dress covered in an oriental print that ended up on sale for a few dollars on the retailer's website shortly after being worn by Kim Kardashian. Not even mentioning how, again Fashion Nova, still has in its catologue a dress with a print of newspaper headlines that is a direct copy of John Galliano's Newspaper Dress for Dior FW00 and already copied also by Zara. In the most recent case, however, that of Glenn Martens' dress, the plagiarism is something completely blatant and mimics the original by Y/Project even in the details of the graphics and colors - albeit with more faded colors. In general, however, there are many users on Twitter who identify a strand of plagiarism of historical pieces from the early 2000s, whose baroque and excessive prints have been co-opted by numerous fast fashion brands: the main victims are the aforementioned Gaultier, Versace, Moschino and Issey Miyake Homme Plissé has also become a recent victim of Zara and company.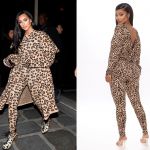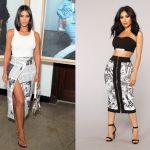 The process of the imitation of fashion by fast fashion, as mentioned, is something habitual for the fashion industry. No less, the main issue concerns fashion culture more than sales: it is clear that Fashion Nova's dress will be the best-selling one among young female consumers, after all it costs only $24 on the site, and it does not have the astronomical price tag of Y/Project's dress. And it is precisely because of this spread that hundreds or thousands of young female consumers will be convinced that that print is just another Fashion Nova graphic without being able to really appreciate the culture behind it or otherwise downplaying the depth and cultural relevance that pertains to Gaultier's work. And there are many users who, seeing Kim Kardashian, Cardi B or, recently, Ester Expósito wearing Jean-Paul Gaultier accuse them of making Gaultier look like «cheap and right off the Fashion Nova rack», as one user wrote. In fact, the process is the opposite: fast fashion brands copy archival designs when celebrities make them go viral - in fact, it is no coincidence that at least two of the clothes plagiarized by Fashion Nova were copied after Kim Kardashian wore them. A process that creates a vicious cycle whereby celebrities try to look less commercial by wearing archival designs that are, however, copied by fast fashion brands ending up looking cheap. Which designer will be the next victim?