Why wearing the shirtless suit has become cool
Formal wear continues to change shape
Sexy, immediate, covered up as little as possible: this is the feeling one gets from superficially shaking much of contemporary menswear. If the inches of miniskirts, shirts, and tops have found a new expressive dimension in post-Miu Miu womenswear - the SS22 collection is surely the most relevant in aspirational and trend terms - menswear, too, has begun to do away with the superfluous. Away with the shirts from underneath formal suits, away with buttons that were too tight, away with everything that was the legacy of issues not quite resolved: ties, knots, belts. All that, metaphorically speaking, has kept a certain idea of masculinity well imprisoned.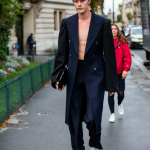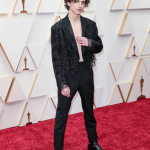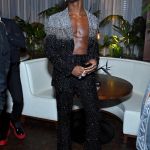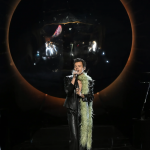 Not that the issue is solely attributable to gender-related social constructs, the real challenge for designers is to be able to recreate increasingly recognizable silhouettes. And, in this ongoing (de)formation of the body - another piece recovered from the post-pandemic scenario - the male imagination has begun to question the dress as we have been accustomed to seeing it. In 2018, Jay-Z went shirtless in a Peter Pilotto double-breasted suit in the music video for Apeshit. Harry Styles performed at the 2021 Grammy Awards in a Gucci leather suit and a green faux fur boa. Lil Nas X has worn it so many times, one would be amazed otherwise. And even Tom Holland sported it in February 2021 on the cover of Esquire, wearing a Prada suit. The point is that shirtless suits actually have a much longer and more articulated history: Jean-Paul Gaultier with his first men's collection in 1983, as well as the work of Raf Simons during the 1990s or that of Vivienne Westwood, used the shirtless suit as a subversive ploy to give authority to underground subcultures.

And, long before the catwalks demonstrated its expressive potential - Maison Margiela SS16, Dries Van Noten SS17, Alexander McQueen AW18, Zegna SS19 just to give examples - it was common practice to find rock or punk singers wearing a shirtless suit, often shirtless. Meanwhile, subcultures have amplified and new ones have sprung up: it is no coincidence that soft boys have begun to dress in pastel hues, jewelry and shirtless blazers. One of them was Timothée Chalamet, who wore a sparkling Louis Vuitton women's blazer without a shirt during the last Oscars. A process initiated by Kim Jones in his capacity as creative director of Dior Home starting in 2018, his deconstruction of menswear has taken the folds of a silhouette devoid of gender markers, following a precise color palette. On the same wave line acted Silvia Venturini from Fendi who, already with the SS22 show, had reinterpreted the male wardrobe in the form of cropped blazers without shirts. The issue is therefore destabilizing at its core: while on the one hand menswear continues to propose and produce blazers in the most classic sense of the term -just look at the first looks of Prada's SS23 show to realize this - on the other hand, it is experimenting with forms of design and styling that circumvent the sense of security of the formal. Confidence from which Thom Browne has decided to distance himself, whose latest show featured a blazer paired with a tweed bra of sorts. Having gone viral like the models wearing jockstraps, there is actually very little subversive about it: that of questioning formal dress in its components is rather the outpost of a narrative tension that will continue to animate runways, fashion, and society.