Shein's success through TikTok's hauls
From fast fashion to ultra fast fashion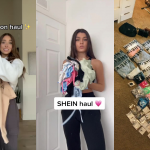 A few weeks ago, Shein received between $100 and $200 billion in investment from several private equity firms, surpassing the combined value of two of the best-known fast fashion multinationals, Inditex (which owns Zara and Mango) and H&M. But how did a mysterious Chinese company that initially only sold wedding dresses manage to become one of the world's most important players in the sector? The stroke of genius was to target teenagers and Gen Z in general, the digital native generation who create their own looks by taking inspiration from Instagram or Pinterest. According to a McKinsey survey, 67% of consumers consider sustainability to be an important factor in their clothing purchases, but in reality, every year the big fast fashion multinationals reach new heights of earnings. Shein has simply raised the bar in terms of both price and production: from fast fashion to ultra fast fashion.
The Chinese multinational has conquered the very young western clientele thanks to a very careful marketing strategy and the possibility of offering models very similar to those that become trendy on social networks as soon as they become popular. This is no coincidence: Shein possesses the data of those who buy from the website or app and, thanks to an algorithm about which very little is known, is able to immediately anticipate and understand the tastes of its target, so much so that when the famous Hackney dress by House of Sunny went viral on Instagram and then on TikTok, it took only a few days before almost identical copies appeared on Shein. The ability to seamlessly integrate e-commerce and social media is the spearhead of the Chinese giant's strategy: influencer marketing is taken to another level through collaborations with thousands of micro-influencers in every country, on TikTok the hashtag #shein went viral in no time (25.2B views), discount codes are pouring in from all over the place and "flash sales" on the site are re-launched by social users, prompting compulsive and instant purchases. One of the most effective methods of increasing the number of customers and targeting their tastes are the hauls on TikTok, videos, almost always #suppliedby, in which more or less well-known influencers show their new purchases, often replicas of the trendiest pieces of the moment, promoting their discount code on the site and encouraging followers to buy.
We are not dealing with a new format, hauls have existed since the days of YouTube, but thanks to Shein's continuous media bombardment, it has become one of the types of TikTok most appreciated by users. Its evolution is the mega haul, videos in which the package to be opened is even bigger and the number of clothes purchased reaches 10/15. While YouTube hauls were usually about expensive products, such as technological devices, or focused on the exorbitant cost of the package, TikTok's hauls tend to be low cost, making them more attractive to users. Through this format, Shein manages to establish a two-way relationship with influencers: those who have gained thousands of followers thanks to the hauls are encouraged by both the social platform and the followers to repropose that content, allowing Shein to continue to incentivise and fund hundreds of videos a day. Hauls are therefore not only a glorification of hyper-consumerism, but also encourage emulation by followers, who tend to buy huge quantities of clothes at very low prices for the social (and social) status that comes with it. Being able to show off the coolest piece of clothing in a video on TikTok or a photo on Instagram is still a source of pride and approval within the 'flex culture' we are used to living in.