Vibram and Havaianas in a collaboration about urbanwear
Available from March 23rd
Havaianas' design and vibrant colours combine with the functionality and performance of Vibram soles to create an urban style collection that can be worn on different occasions and is destined to become a must-have for the summer. The collaboration between Vibram and Havaianas takes place in a completely new context, where the identities of the two brands, originally linked to natural environments that appear very different from each other, coexist. The common denominator is the use of rubber to create products linked to functionality and performance, which over time have become true icons of style and design.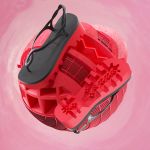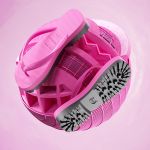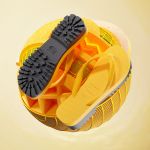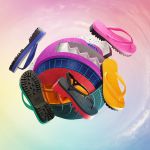 The timeless Luna model for women by Havaianas in black is combined with the Vibram Tweety sole in bright red, suitable for prolonged use and perfect for walking in the city. The classic TOP unisex Havaianas flip-flop, which represents the essence of Brazil, is available in four bright colours (yellow, green, blue and pink) combined with the light, durable and very comfortable Vibram Betulla sole, offering new models for use in an urban context and beyond. In the launch campaign, each flip-flop of the collaboration is contextualised in a virtual urban scenario in a palette of pop colours. Initially, the flipflops are not revealed in their entirety: the upper of the TOP model is represented by water, recalling the origins of Havaianas, while the sole of the LUNA model is composed of a red rock evoking the world of Vibram. The meeting point of the five models is the "urban" context: a multicoloured world where the shoes represent satellites that rotate, so that both the upper and the sole are displayed, combining in a surprising way and creating an artificial environment where the models reveal their true appearance in a group image.

The Vibram + Havaianas collaboration is available from March 23rd in selected retailers and from April 1st on havaianas-store.com at a price of 55 € for the Top model and 80 € for the Luna.