Missoni appoints Filippo Grazioli as new creative director
An important new step in the future brand strategy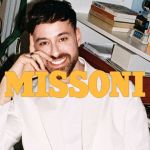 The news was anticipated by La Repubblica last October 14, told as a hypothesis, but now it's official: Filippo Grazioli is the new creative director of Missoni. His actual debut on the catwalks will take place next September, for the SS23 collection that will show at Milan Fashion Week, while we will be able to see the results of his work already in May with the Resort collection that should be presented through a lookbook. Grazioli, who completed his studies at the IED in Milan, is a former collaborator of Martin Margiela (he worked until 2013 on the brand's womanswear), was senior designer for Hermès womanswear and then became Riccardo Tisci's right-hand man at Givenchy first and then at Burberry. A very important curriculum that will now culminate with a leading role in a historic Italian and Milanese brand that has never lost its allure but needed a breath of fresh air. Rumors about Grazioli's arrival at the helm of the brand had already begun at the end of last summer, when the designer was spotted several times both in the Missoni boutique in Via Sant'Andrea and in the headquarters in Via Solferino.
From what Grazioli himself told WWD, however, his experience will be put at the service of Missoni's values, which, before being a fashion brand, is a family - not surprisingly, his arrival will not mean a complete reshuffle for the brand's management team. Rosita Missoni, founder and wife of the late Ottavio, will continue to be in charge of the brand's furniture line (which in the meantime has become one of the driving sectors of the increase in sales that has taken place since 2019 and has now expanded into the UAE by furnishing the new 38-story residence in Dubai called Water Oasis) along with interim creative director Angelo Caliri, who will also manage the Missoni Sport line that will be relaunched and the Missoni Lab training project. Luca Missoni, the founder's second son, will continue to manage the brand's archives, while nephews Ottavio and Giacomo are in charge of the ESG team and sustainability, while Angela Missoni will remain the brand's president.
There are many indications that Missoni is about to have an unexpected boom: since the arrival of CEO Proli in 2018, who progressively streamlined the brand's organization especially during the pandemic, the company has doubled its revenues, but now plans to further expand also in the United States with the Baia project in Miami, in China with the new boutique due to open in Beijing after the ones in Shanghai and Chengdu, and even on home soil, in Milan, where the brand will double its space in Rome and change location of its boutique in Milan - according to some in Via della Spiga or Via Verri.