Rhuigi Villaseñor is the new Creative Director of Bally
Once again luxury relies on streetwear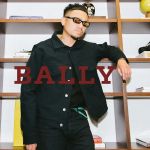 Former creative director, founder and CEO of Rhude, Rhuigi Villaseñor has been appointed as the new creative director of Bally, the Swiss luxury brand owned by JAB Holding Company. "I am proud to have been appointed as the new Creative Director of Bally," said Villaseñor. "As a brand that is very close to my heart, Bally has been worn in my family from generation to generation, from my grandfather to me. The brand's pioneering legacy, through social innovation and 171 years of legacy in the world of luxury."
In the most extreme example of streetwear's high fashion takeover (or of high fashion's desperate search for relevance) Bally, the very classic Swiss luxury brand, has named Rhuigi Villaseñor, founder of Rhude, its new creative director.

— Vanessa Friedman (@VVFriedman) January 18, 2022
With the arrival of Villaseñor, the Swiss brand will embrace the streetwear contaminations of Rhude's founder while continuing a renewal process that started years ago, as told by CEO Nicolas Girotto: "We entrust Rhuigi, a talented visionary, with the task of continuing to evolve the contemporary relevance of our brand and accelerate growth while preserving Bally's core values." It will certainly be interesting to see how Rhuigi's style can renew the DNA of Bally, a brand with its own historicity but which certainly represents fertile ground for the creativity of Rhude's founder.

Villaseñor, who will live between Los Angeles and Switzerland, will debut his first collection with the Spring/Summer 2023 season.