Ghali announced a collabo with McDonald's
With an unreleased song in an 'incomprehensible' version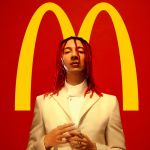 After Travis Scott, BTS and J Balvin, Italy also has its own collabo with McDonald's thanks to Ghali, the latest name in music to join forces with the fast-food company for a collabo which, unlike its predecessors, will feature a new song by Ghali and McDonald's iconic panic, the Big Mac.
When you buy a sandwich, from October 20th you will receive a postcard with which you can listen to a verse of a new song by the rapper, a song that until then will only be available in a version defined as "incomprehensible" in which the lyrics, apparently rewound backwards, you can only understand the word Big Mac. It's certainly a singular operation, but one that distances itself from what the fast-food artist has done in his other collabs, in which the formula of a customised menu and a customised merch drop seemed to have become the norm.
The same formula was used by another Italian rapper in his collaboration with another fast-food company, Sfera Ebbasta and KFC, who almost a year ago decided to follow in the footsteps of Travis Scott, the only one at that time to have collaborated with McDonald's, to launch a personalised menu and some apparel items combining the rapper's logo with that of the fast-food company.