"Design is problem-solving": Interview with the father of Balenciaga Triple S
David Tourniaire-Beauciel talks about his career, his successes and his future projects
Concept
Sangi and nss want to shine a spotlight on the world of footwear design and concretely deepen the process of designing, designing and making sneakers through interviews with the most important footwear designers around, who will tell us about their experiences and their method.
Designer
The first guest of the column is a legend of footwear design: Tourniaire-Beauciel. French of birth but Italian action, has achieved success working for some of the most important brands in the fashion world.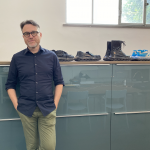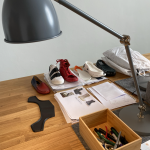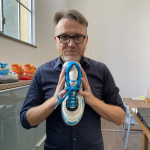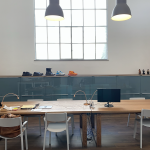 Hi David, it's a real pleasure for me to be able to interview an authority in this industry like you. Where did your passion for shoes come from?
I was born in a small town French called Romans sur Isére. A small town dedicated to the luxury shoe business French. [...]. I grew up as a street boy and my passions were BMX and motocross, I also participated in the world championships! [...] As soon as I saw a Jean Paul Gualtier fashion show in a magazine in 87, I realized that fashion could be a reinterpretation of the street world. He made bracelets from cans, rings from nails and made me realize that beauty could come from something simple, there was no need for it to be gold or full of jewels. Jean Paul Gualtier was also the first to do street casting for models, not official casting. It started from the street, from the young [...] After high school I chose to do a fashion school in Lyon but only attended the first year. But I learned them to draw, to make a dossier and to choose materials. Then back to Romans I enrolled in a technical and non-creative school. I learned how to industrialize, create the operational range, and evaluate the costs of sketches made by other designers. At that moment he understood that in the making of a shoe those were the most important processes.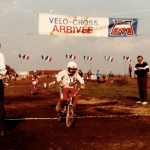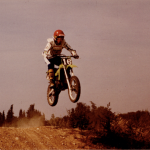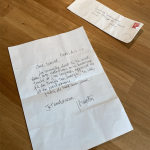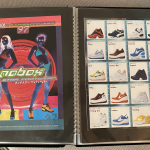 Tell us about the beginnings of your career.
I started with a 6-month internship in Bordeaux at a French surf brand called Oxbow. They wanted to launch a motocross-inspired line, so it was the perfect opportunity for me. Over time I realized that it was not for me because they were referring to an imaginary that gave me little creative margin. It was, however, a very formative experience, after which I returned to my hometown. At Romans I started designing shoes all day at my grandmother's house, with the idea of going to present the drafts from the great local footwear, which they produced for important brands such as Claude Montana, Louis Vuitton, Issey Miake and Karl Lagerfeld. In those big companies worked great designers from all over the world, Romans was a reference point for fashion at the time, a bit like Vigevano was in Italy. I took the first doors in Kelian's face, who looked at my sketches and made me realize that he didn't need me. But to the fury of insisting I stood out and gave me the opportunity to stay in the company doing the dirty work using all the tools and machinery as long as I would not disturb or ask anyone for help. I was there every day doing maquettes on maquettes.
The first shoe I made for Kelian's line initially pleased a lot, so much so that Stephane (the creative director and founder) took it in his hand and disappeared for a few minutes. On his return he looked at me and told me that that shoe was a half, throwing it away forcefully! I realized later that this was the first lesson of my professional career. In that time Stephan Kelian had gone to have the model cost, and the production prices were too high for the target and price range of his brand. He opened the large window of his office that overlooked the entire factory and explained to me: "There are more than 800 people working in here that I pay every month to support their families; If you don't do a good job, I can't afford to do it anymore." Fashion design is to fully interpret the needs of the brand you work for. You can experiment and innovate but respect the BRAND's DNA. Finding the right trade-off between the trend and the brand's DNA. This is the key to a product's success. It is therefore necessary to develop the ability to communicate with the entire operations team, to involve everyone and give proactive energy to the project. The conversation must be open to find each solution together, involving everyone.
I recently collaborated with MGT, a major shoe factory in Abruzzo. There I understood the complexity of the process behind the finished product and realized how much respect you have to bring to the many professionals who work at every stage of production.
That's right, the end result is the sum of a series of compromises and as the project makes small changes, it's a path. Design is problem solving, you have to have an elastic mind. The designer must also take into account the business, he knows that that shoe will have to contain a set of values and be sold. Maybe that's the difference with an artist. I worked at Kelian from '91 to '93 designing shoes for the line of the same name. At that time Jean Paul Gualtier signed a licensing agreement with our company. At the time, Jean Paul faxed the drawings and Kelian was in charge of mass production. I had designed a maquette for Stephan Kelian's collection and it happened that among the drawings sent by JPG appeared a shoe that was exactly identical to the one I had designed. Stephane understood that my ideas were very close to the world of JPG and decided that from that moment on I would follow the collection. I was very proud, although initially I was more concerned with the product development part than the style. After 6 months working with Jean Paul Gualtier called me the footwear designer, telling me that he had just signed with Kenzo and would soon leave the current French maison. He invited me to show my work directly to JPG, to try to take his place in the design direction. I immediately took a train to Paris and carried with me a huge bag full of maquettes. It was my big break. I went to his office next to the Bastille and found myself talking to an icon. I was excited because I was a young provincial boy and I came face to face with an idol, a teacher. At the end of our interview I returned to the train resigned, because I had not noticed enthusiasm on his face.
For three weeks I had no news and lost my hopes, until the outgoing designer called me. It was Friday when he gave me the big news, telling me that on Monday I would officially start. In two days I arranged and found an apartment in Paris. That was the beginning of my professional explosion. That's when I really got into the thick of fashion. In the style office there was an atmosphere of enthusiasm, it was a team of crazy visionaries.
I worked two years at JPG experimenting with new shapes and materials. At Roman I had a very traditional and classic training but I wanted to expand my skills. In 1995 I was invested in the innovation of the sportswear industry, so I decided to go to Spain to get up close and forth with the new injection and volcanization techniques. So I approached the world of sneakers and started working with a Spanish brand called Nobox.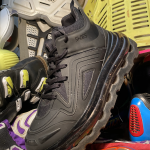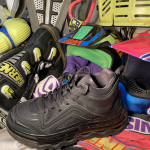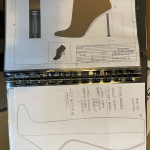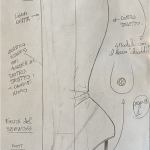 And what did you value more about sneakers than traditional footwear?
I felt free to explore new volumes and materials. You could finally make prints that went beyond the models known at the time. I liked experimenting. After Gaultier I worked for five years at Chloè alongside Phoebe Philo. After another five years, Martin Margiela's studio contacted me and I went to present my work. I began to understand his vision, in which a mistake can become the strong point. Martin saw things differently than others saw them, and worked them out through a simple yet brilliant design. It was a new approach to projects, which always started from a concept, an idea, an intuition. [...] In 1988 Martin Margiela left the eponymous fashion house and was replaced by Nina Nitsche, who until then had been his assistant. The new assistant was Demna Gvsalia [current creative director of Balenciaga, nde]. It was there that we knew each other and we immediately understood each other. I was freelance at the time and beyond Margiela, I collaborated with Givenchy under the creative direction of Riccardo Tisci. [...] Finally, I had the opportunity to collaborate with Ferragamo in Florence[...]. I was in charge of the creative direction and management of the entire shoe section. After 6 years of Ferragamo, he called me Demna Gvsalia who had become the creative director of Balenciaga. The first shoe we worked on was the Speed Runner. The design, consisting of a sock on a trainer's bottom, was very particular and left everyone amazed. When Demna called me to make big, special shoes, which were then the Balenciaga Triple S, it was perfect because I had already experienced years before forms of that kind.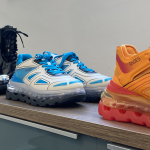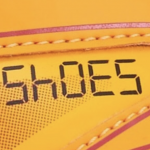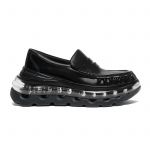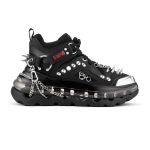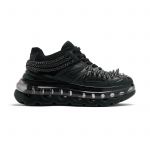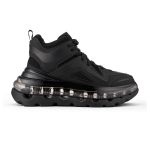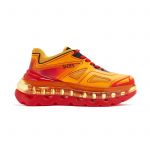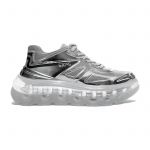 Where did the idea to launch your Shes53045 brand come from?
I wanted to take on a new challenge. A designer needs to understand that he needs a team and collaborators. It was a supplier in China that allowed me to overcome the technical production problems we had in Europe. The Sole of Bump'Air cannot be made in Europe because we do not have the tools and technologies to inject air inside the sole, or at least not so much! Shoes53045 is like a stool that rests on three feet: design in Europe, production in Asia, and administrative management in Los Angeles.
How did the name and logo come about?
That's a funny story: I was in the gym and I was training on the treadmill when I stopped to look at the figures on the screen. It appeared 53045, which overturned reads "Shoes", and I immediately thought that the brand should have a sporty but also ironic inspiration. In Asia the year understood immediately, perhaps because they live in a constant hybridization of tradition and innovation, on the streets quickly passes from ancient prayer temples to majestic futuristic skyscrapers.
We had a lot of fun. Sneaker design and production techniques allow you to experiment, venture and innovate. My partners often send me research of new materials or alternative seaing methods that then become the basis for innovative projects. I would also like to point out that my partner Aurelia and I have decided not to present entire seasonal collections. We drop every 45 days or so, gradually introducing new models. Our sandals have just come out and they get dropped exactly when they're needed.
It is precisely in this particular historical period that you have anticipated a trend. Without knowing it, you started using this common-sense strategy.
We are a sincere and transparent brand and we care a lot. Let's say we use vegan materials precisely because we do not use the skin but the synthetic. We are not 100% sustainable yet but we are already doing research and working to become even more eco-friendly through upcycling. Consumers often do not explain how the price can vary according to the colorway but with sincerity it would be enough to explain the work behind it. If the supplier has to create the color at our specific request, of course the availability changes and the price will rise if only a little. Honesty, this is the direction to follow. We are a different brand as approach, quality and communication. On social media we speak a simple and cool language, and we involve our followers with photos and videos that we then put back. Initially we thought we would only sell online, but we quickly realized that people need the experience and to be able to physically see them. We plan to organize energetic events in full Shoes53045 style. The next step will be when we present the new model. An evolution. A new challenge. The new fund will have the same principle but delined in another way. It represents the meeting of different inputs, which are reconciled in a renewed and universal design. It contains all the DNA of Shoes5305 and meets everyone's needs. The canvas of the top will be sustainable and the price will also be lower. We will continue to produce them in unisex sizes without intermediate measures. It is difficult to choose the right size online and our solution is to provide two pairs of interchangeable insoles and different thicknesses inside the box, so that everyone can use the ones he finds most comfortable. We also provide a bag and stickers inside. Our idea of fashion is pleasant and usable to everyone and our shoes allow to be eccentric without being strange or extravagant. In my work, when I design any footwear, I think of a person who faces a real life, normality, not the princess or the life of a billboard.
You've worked for some of the most important brands in the world, and I think the personal satisfaction of contributing to the growth of shoe culture is priceless. How does it feel to be an icon of the footwear world?
People call me that, but I don't feel that way. When I think I've arrived I do things wrong, I don't find stimuli, I get bored. The worst falls I did in motocross happened during the final lap of exultation, while I wasn't focused.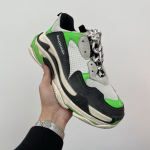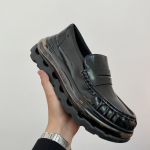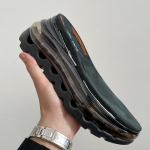 What advice would you give to a young designer?
In the design of fashion and in particular of shoes, you have to find the right compromise. For example between durability and comfort. Or between price, technique and materials. Compromise that should be understood as an ideal solution, on the other hand the design is problem solving. And we must not be afraid of the word 'commercial', it does not mean that it is the wrong compromise. In design there are two rules: to understand who is designing the shoe, to understand the context in which you operate, and to think of technique not as the limit of creativity, but as an integral part of it.
Which direction do you think footwear design will take in the future?
The future is technology. I expect new materials that give you the ability to find new features. I'm talking about new volumes, new connection systems, things that help everyday life.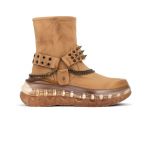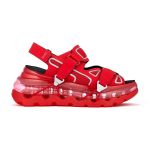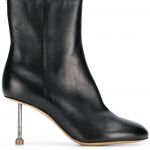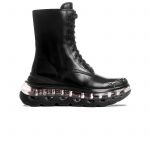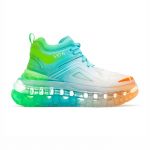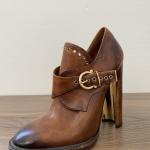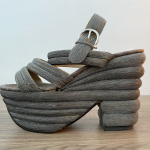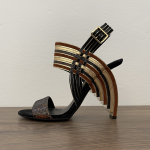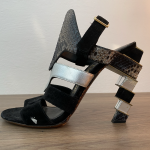 What's your favorite shoe? And your favorite design?
I have always been a fan of Nike and my favorites are the result of the collaboration with Marc Newson, the Zvezdochka. They're brilliant. They can be disassembled and recycled. The components allow you to have three shoes in one. The design is simple and functional. At home I have a couple Og from 2004. I'm fascinated by the fact that my father can wear them too, who is disinterested and buys a cheap pair without thinking too much. The same brand also offers a range of trendy and highly technical sneakers. Shoes53045 will become like this. It is difficult to choose which of my projects I like the most, I really worked on many shoes, but perhaps my favorite sneaker is my most ambitious project: the next model of Shoes53045. It is versatile, affordable and represents the pinnacle of my research.
Glossary
Maquette: prototype of the sole, usually made of wood or resin
Modellistic: flat component design
Licece: Contract signed between the shoe factory that produces the models and the brand with which they will be marketed
Injection: injection of material (usually PVC – TPU – EVA – TR) in prepared molds closed by the shape of aluminum coated of the tomaia
Vulcanization: sole welded directly on the top by means of heated molds