The new Bottega Veneta invisible pop-up store
'The Invisible Shop' has opened in Shanghai
Bottega Veneta has opened in Shanghai its first pop-up store since the beginning of the pandemic. The shop is located inside the Plaza 66 Mall, the famous complex of skyscrapers consisting of two towers, which has always been the epicentre of luxury shopping in the Chinese city. The shop has been nicknamed The Invisible Shop and is a real art installation: as the name suggests, its structure is almost invisible because it is made up of mirrors that perfectly blend in with the reflections of the other showcases.
With a height of three meters and an area of ​​100 square meters, the shop perfectly reflects the no-logo policy carried by the brand, which has always been characterized by its minimalist aesthetic and the essential lines of its design. Even the brand's name is written in an almost indistinguishable way on the walls of the structure, which consists of a double hand-made facade that exploits the optical illusion and the play of the see-not see. Inside, a selection of the men's and women's Pre/Fall 2020 collection is available for sale, including prêt-à-porter, bags, small leather goods, shoes, jewellery and sunglasses.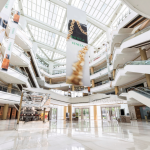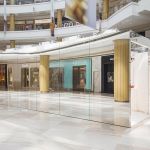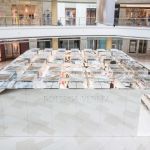 The Invisible Store embodies Bottega's core values of subtlety, discretion, joy and sensuality," said Bartolomeo Rongone, Bottega Veneta's CEO. "It celebrates the arrival of our new pre-fall collection and will inspire both existing and new audiences through an immersive journey into the world of Bottega Veneta under Daniel Lee.
"China is one of the most important markets for Bottega Veneta," continued Rongone; "Now more than ever we want to show our commitment to the country and we are excited to finally offer some distraction to our local clients in this exceptional moment." According to the most recent reports, in fact, after the crisis caused by the pandemic, China will be the main basis for the economic recovery of the fashion industry: if today it alone accounts for 35% of sales for the luxury market, in five years it is expected to occupy half of it with percentages ranging between 47% and 49%. Bottega Veneta, owned by the Kering group, currently manages 44 stores in China. The shop, which was inaugurated on July 3rd, will be open until July 19th.