Absolut Vodka Launches a Special Edition in Collaboration with MSGM
ABSOLUT BETTER TOGETHER LIMITED EDITION
Absolut Vodka presents ABSOLUT BETTER TOGETHER, the new limited edition created in collaboration with MSGM. In these months of social distancing, this brand new, unexpected collaboration wants to send a message that today is more important than ever: Nothing makes sense when we're apart. For each bottle sold, Absolut will donate part of the proceeds to Banco Alimentare, in support of needy people affected by the ongoing health emergency.
For the collaboration MSGM, a brand that has always been intrigued by the experimental contamination with other fields of contemporary art has designed an original and contemporary outfit: the reproduction of an iconic item of the brand, a mini tie-dye hoodie. The special bottle is available in different colour-ways which, once united, recreate the colours of the rainbow. The message can only be read by bringing two bottles closer together, confirming the need to "rediscover ourselves close to each other" even in such a complicated moment. Furthermore, the writing "Nothing makes sense when we're apart", printed in fluorescent ink, is also visible in the dark, but can only be read in full if two bottles come close.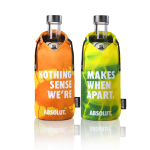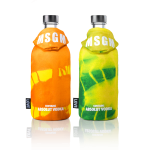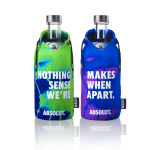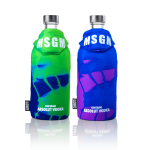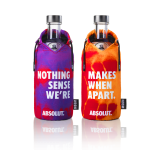 I am thrilled with this collaboration with Absolut Vodka, a legendary brand, a name capable of evoking, in two syllables, everything that nightlife represents and has represented over the years", said Massimo Giorgetti, founder and creative director of MSGM; "I am also proud to be able, with MSGM, to enter into the history of Absolut's collaborations, a history that has always been full of artists, designers and international brands; and to do so for such an important occasion, Pride Month. The mini sweatshirts that dress the bottles, in the iconic MSGM tie-dye, recall the colors of the LGBTQ+ flag, the quote intends to launch an important message of union, today more current than ever.
ABSOLUT BETTER TOGETHER is a real collector's item, made even more exclusive by the limited edition of 20,000 bottles and the availability in 6 colour variations. The bottle will be available in large retailers from July and from 25 June in online preview in the best online retailers at the price of € 14.90.