This Halloween dress up like Tyler
And don't forget the platinum wig
Just yesterday the official Golf Wang Instagram announced the imminent release of the official Igor Halloween costume. It includes a suit in three possible colorways (neon green, light blue and pink/red) and also the iconic Tyler's blonde wig. Byt his equally iconic rectangular glasses are not included. The costumes will be released at three o'clock (American time zone) on Thursday October 24th on the Golf Wang website.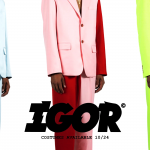 From the beginning of his career Tyler the Creator has never hidden his eccentricities. A winning move, which has led millions of fans to love him and his flamboyant Golf Wang clothing line, with that slightly vintage aesthetic, suspended between the rapper and the vacationing grandfather. Then a new sharp turn of style arrived, with the creation of the character of Igor and the release of the eponymous album. A very recognizable new look: neon-colored suit, very dark sunglasses and a platinum blonde wig on the head. A look that many (and rightly so) have adored and that from today can become your official Halloween costume.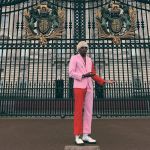 This is a unique opportunity to upgrade your Halloween managing to get your hands on a Golf Wang suit. And if all this talking, sparked a desire to hear Tyler's music, know that yesterday he also released the video of "I THINK", a song inspired to a trip to Italy with Frank Ocean and Solange. Listen to it here.