Twitter goes crazy for Elon Musk's Custom Air Jordan 1 "Tesla"
And everyone forgets about the new SUV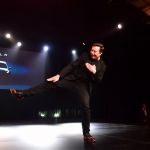 Thursday evening. Elon Musk is on stage to present Model Y, Tesla's new all-electric SUV (cost $ 39,000), when someone shouts from the audience:
"I like your shoes!"
The CEO of the Californian company took the ball and, with a karate-style move, showed his sneakers, a pair of Air Jordan 1 customized by Marco Acosta.
In January the designer published this post on DMC's Facebook profile:
"Last year I was commissioned for this pair, made for Elon Musk as his birthday present. It was a fun and challenging project. Shoe was reconstructed using fine leather such as Horween Leather's Shell Coedovan for the toebox, laser cut with the Tesla logo by D-Nice Customs, red metallic leather for Swoosh and Tesla logo, black genuine python and black hair on hide".
One look at Musk's feet was enough for Twitter users (and not only) to forget about the new SUV and go crazy, instead, for the billionaire's shoes, filling the web of comments that, in different ways, support more or less the same concept:
"I don't care about the new Tesla, but I do care about the Tesla Jordan 1s. Elon Musk, when's the drop?"
No response from the man, but, if you want, you can have a similar pair made by supplying the basic shoes by DM Custom Sneakers for $ 950.