Balenciaga vs McDonald's
McBalenciagas?
Since Demna Gvasalia has become creative director of Balenciaga, she has accustomed us to see famous items, but usually considered not very cool, transformed into must-haves that the most avid fashionistas are competing for. It happened with the Crocs platform and, above all, with the much-discussed reinterpretation of Ikea's Frakta bag. Someone has noticed that even in the FW18 collection there is an accessory strongly inspired by a decidedly popular product that has nothing to do with the world of luxury brands. This is a pair of red leather mules with a square point sold at $ 740 so much like McDonald's fries cardboard that it has become viral on social media.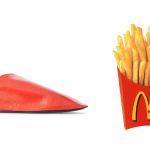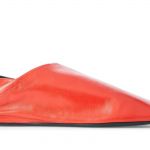 The funny thing is that now McDonald's Sweden responded by posting on Instagram the image of DIY moccasins made just using their iconic packaging, accompanied by the phrase:
"If we get 103042 likes we release these for real."
Brilliant! At the moment the post has collected about 14,500 likes, but crossed fingers, maybe with all this hype will manage to reach the exact figure.