Pandoro o Plomo? - SPACEDELICIOUS by TNT
Happy new Year da Mauricio delirio magnum Tentela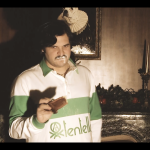 If Pablo Escobar was El Patron of cocaine, Mauricio Tentela is the Padrino of Pandoro.
In the new video from TNT SPACEDELICIOUS series, Maurizio was inspired by Escobar and the Narcos Netflix series to wish everyone a happy new year.
The protagonist of the video is the sweet symbol of the Christmas season: the Pandoro, obviously with Patron's first quality icing white sugar on top.
Mauricio reworked the 80s Escobarian style in the Polo Tentella with long sleeves, available on the SPACEDELICIOUS website with "icing sugar included".
Enjoy the new video!