A$AP Rocky x Underarmour sneaker, a more detailed look
A closer look and a second colorway
It has been a busy couple of weeks for A$AP Rocky as he first teased his new sneaker design for Underarmour, and then released his new album 'Testing' last Friday. The shoes which were only shown in passing bore an undeniable likeness to the legendary skate shoe of the 2000's the Osiris D3, and ever since the tease we've wanted to get a clearer idea of exactly how much of a likeness there is.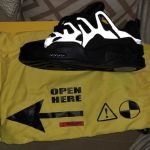 We've dug through the internet and found a few more pics that give a clearer idea of what the sneakers really look like. The
massive shoelace loops
are there, the
chunky sole
, then there's added Rocky flash like
3M reflective detailing
, and a metal disk underneath the heel of the shoe.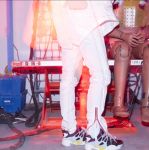 There also looks like their's a
few colorways
coming, beyond the previewed all-black, we see a white/grey colorway, with splashes of yellow on the sole coming too. Still no official pics so stay locked to nss to see them as they come in, and what do you guys think from what you've seen so far, hit or miss?