Will the chunky sneaker trend continue in 2018?
Looking to the future of the rather backwards trend
The chunky sneaker was one of the most undeniable sneaker trends of last year, we're looking back at why, and what the future holds for this rather backward "dadcore" trend.
Fashion has always been about opposites, and as soon as something becomes popular, there will be a natural wave rolling forward to break it. In a time where light-weight, sleek, sock-like sneakers were ruling the market, with perhaps Balenciaga's Speed Trainer being the most popular and iconic of all, the brand made a 180-degree shift and introduced the now wildly embraced or rejected Triple S sneaker. The shoe set fire to a trend that's still burning strong for 2018, but will it last, and why has the "ugly" chunky trend become so popular?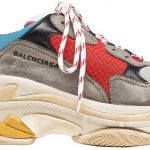 Chunky shoes have been around for a while, even outside our dad's closets, Raf Simons's iconic Adidas collaboration, the Ozweego sneaker, was one of the most notable when it came onto the market in 2013. Far from being an instant hit, it did, however, pave the way for the chunky aesthetic that came to follow. Also, the clear 90's style that's currently influencing fashion trends has helped it along. It's hard to ignore the ultimate 90's chunky sole of the Buffalo shoes, that was immensely popular at the time. They gained popularity through the emerging rave culture blowing up at the time, and literally had a quite functional drive behind them as dancing all night long comfortably was aided by their massive rubber soles.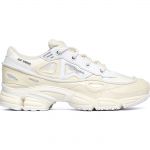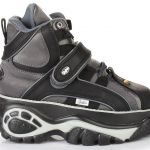 It's also undeniable that the sneakerhead demographic is getting ever wider, with a generation of 90's sneaker fiends now coming of age and literally becoming daddies themselves. One need not look further than one of its latest champions, Kanye West who with his own Yeezy Boost 700 "Wave Runner" has perhaps created the daddiest sneaker of them all, and with hip-hop ever stronger streetwear influence on high-end fashion, design houses simply can't afford to look away from the chunky trend.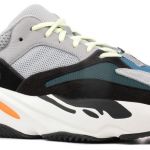 Add to that the immense growth of the Asian fashion markets in China, Korea, and Japan, with their classically more popular boxy fits, has helped spur on the popularity of the chunky style, as they simply work well with those fits. They're in tune with the current trend of more oversized and loose fits that we're seeing within fashion at the moment.
So will this trend continue?
Looking at reports from some of the biggest fashion outlets, the message is clear that there's no end in sight with Balenciaga, Gucci, Yeezy, Louis Vuitton, Acne, Rick Owens, Calvin Klein, OMAC, Prada, Fendi, Raf Simons, Moncler, Maison Margiela, Burberry all dropping new chunky shoes in 2018, so they're not going away any time soon.
See some of the new up-and-coming chunky shoes of 2018 below