The Most Memorable Swimwear Moments in Film
From Ursula Andress in "Agent 007 - Dr No" to Salma Hayek in "From Dusk Till Dawn"
The clothes in the film are important.
They define a character, they are the mirror, the shape, sometimes the essence.
It may also happen that they are so important or beautiful to fagocitate it being more impressed in the mind of the whole movie. Whether this occurs or not, their history remains closely embraced, no matter who you talk to a sumptuous evening or a swimsuit dress.
Think about it. If I say Agent 007 - Dr. No, in front of what image do you have? Most likely Ursula Andress in bikini emerging from the water. Not even remember more of that film.
Here, nss takes you on journey through some of the iconic costumes that have gone through the history of cinema.
Ready to dive?
Splash!
Lana Turner - The Postman Always Rings Twice (1946)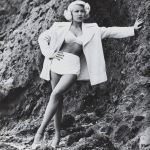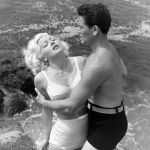 The whole Lana Turner's wardrobe in The Postman Always Rings Twice is beautiful and white, a choice chosen to try to make Cora Smith, the dark lady who kills her husband along with her lover, less provocative.
Since her catchy entry wearing turban, shorts and high heels to the iconic bikini during a night swim in Laguna Beach, each outfit is cured by Irene Lentz, MGM's costume designer in the Golden Age of Hollywood.
Brigitte Bardot in The Girl in a Bikini (1952)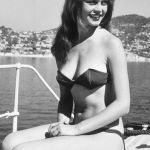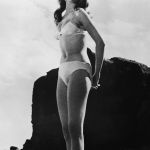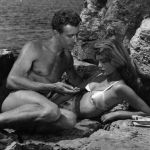 If on July 5, 1946 was the French tailor Louis Réard to invent the bikini, baptizing it with the name of the Bikini Atoll in the Marshall Islands, to make it iconic was Brigitte Bardot.
There are hundreds of images of B.B. in a bikini, both on screen and in private life, very often on the beach of Cannes. The first bikini in a movies? In 1952 The Girl in a Bikini. In all, she is divine, thanks to a mix of sensuality, innocence and typically French effortless chic.
Deborah Kerr in From Here to Eternity" (1953)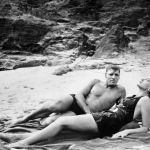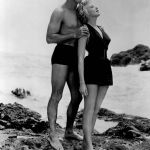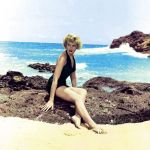 "I don't think anyone knew I could act until I put on a bathing suit», said Deborah Kerr, recalling her outfit "From Here to Eternity".
In the 1953 film directed by Fred Zinnemann who made the film's story and unleashed the cries of the censorship with the kiss between the actress and Burt Lancaster wrapped in the waves, even the black halter top swimsuit was too seductive, to the point of needing a skirt as cover.
Needless expedient.
Sophia Loren in Boy on a Dolphin (1957)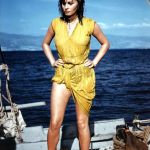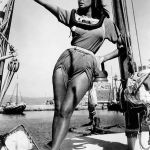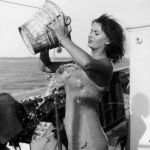 When you say that Sophia Loren embodies, or is embodied for a long time, the image of Italian women in the world is probably true, it is certainly flattering. Because Loren is an absolute beauty.
It is no matter what she wears, whether it is a little black dress, whether it is a man's shirt.
Each fragment taken from her many film testifies it, so it is not strange that even in a swimsuit showing explosive. Some examples? The floral fantasy piece featured in Too Bad She's Bad or the blue one of It all started in Naples but our favorite is not really a swimsuit, but it does the job.
In Boy on a Dolphin Sophia is a fisherwoman of sponges of the Aegean Sea, Greece, during a dive, finds a historical relic depicting a boy riding a dolphin. In one scene of this film, who introduced the star to American audiences, emerging from the water with yellow dress who, wet, sticks and reveals woman's generous forms.
Sexier than any bikini, thong or topless ever seen.
Elizabeth Taylor in Suddenly, last summer (1959)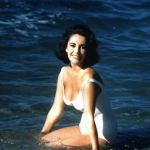 Catherine Holly, played by Elizabeth Taylor, is forced by her cousin to wear a white silk swimsuit, which in contact with water becomes transparent, because, attracted by her nudity, the boys from the nearby public beach are as close and he can have so to lure them.
When a swimwear is not only one of the stars of the film but also becomes one of the most iconic in movie history.
Ursula Andress in Agent 007 – Dr. No (1962)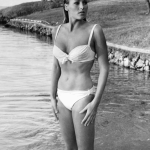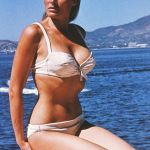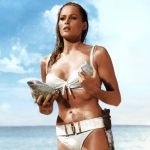 Perhaps not everyone has seen Agent 007 - Dr. No, but everyone has in mind the image of Ursula Andress aka Honey "Honeychile" Ryder in swimsuit.
To further boost the Swiss actress hot picture to shoot promotional photos is the legendary pinup photographer Bunny Yeager. That white bikini, coupled with the belt knife holder has made the history of cinema and fashion since its inception. Just after the release of the movie, in fact, the vision of the actress who came out of the ocean, tanned and dressed so, singing Under the Mango Tree had three effects, in addition, to make Andress an immortal erotic icon.
One: Ian Fleming, author of the James Bond saga, visited the set just to meet the sexy star in person.
Two: the sale of bikini splashed skyrocketing.
Three: Honeychile's look set the standard for all Bond girls to follow. From Dr. No" onwards they should be: extraordinarily beautiful, sexually free, exotic, brave, perfect partners in crime, but with a vulnerable side.
From Jane Seymour to Olga Kurylenko, they all have something to Ursula, so that in Die Another Day Halle Berry honors her with an orange and more modern version of the same bikini.
Mariangela Melato in Travolti da un insolito destino nell'azzurro mare d'agosto (1974)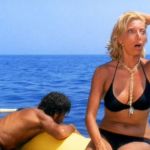 A simple black bikini with gold jewel and a semi-transparent pareo.
The rest is made by the wonderful and beautiful Mariangela Melato, one of the best actresses in Italian cinema.
Many years later, in 2002, Guy Ritchie made a remake of Travolti da un insolito destino nell'azzurro mare d'agosto, strongly desired by his wife Madonna, who plays the role of Melato, while Adriano Giannini has that of his father Giancarlo.
Pamela Anderson in Baywatch (From 22 September 1989 to 1997)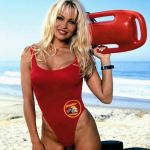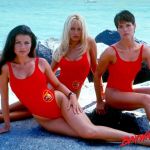 Okay, it's not a movie, but in an article on the most iconic swimsuit on the screen you cannot name Pamela Anderson's red one in the Baywatch TV series ... virtually an entity with its own life.
Salma Hayek in From Dusk Till Dawn (1996)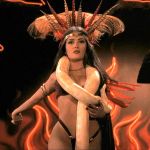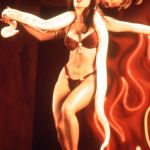 Everything started with the movie Four Rooms in which Salma Hayek play a small cameo as lap dance dancer for her friend Robert Rodriguez. Those few minutes were enough to conquer Quentin Tarantino, who for the actress specifically wrote the part of the provocative vampire Santanico Pandemonium in From Dusk Till Dawn.
So Salma, beautiful in a skimpy bikini accessorized by a real snake, launches into a hypnotic dance, capturing all eyes and making memorable this horror movie directed by Rodriguez, but screened and played by Tarantino featuring George Clooney.
Keira Knightley in Atonement (2007)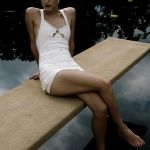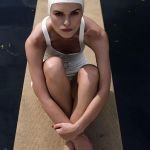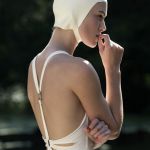 In Atonement Keira Knightley wears one of the most beautiful wardrobe, designed by Jacqueline Durran, never seen in movie history, perfectly embedded in a gorgeous emerald green evening gown.
Another iconic look is like the one-piece swimsuit with swimming cap, both white, the English actress shows off at the lake and should be emotional isolation and sexual repression metaphor of the character of Cecilia Tallis, the film's protagonist.
The Keira sequences in costume look like photographs made by lens masters such as Horst P. Horst and George Hoyningen-Huene.