Dior celebrates its seventieth anniversary with a brilliant retrospective
"Christian Dior, Couturier du Rêve" explores the history of one of the pillars of modern fashion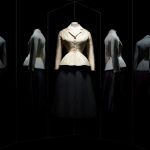 Dior turns 70 and to celebrate in great style the Maison has announced a maxi retrospective who explores the entire history of the brand.
At the party there will be over 300 couture dresses who have signed the Maison, from its debut in fashion to these days, involving all the fashion designers who have occupied the helm of the creative direction in the years – from Yves Saint Laurent to John Galliano, then Raf Simons and Maria Grazia Chiuri and also Christian Dior, of course. The exhibition, titled Christian Dior, Couturier du Rêve, will also feature accessories, bags, shoes and even artworks aboutMaisonaison, everything set up inside the gorgeous Les Arts Décoratifs in Paris, with a very special room inspired to the Galerie des Glaces of the Palace of Versailles. If you are a real fashion lover you can miss this date.
Christian Dior, Couturier du Rêve will open on July 5 during the Paris Couture Week and will last until January 2018.