5 reasons why Leonardo DiCaprio deserved the Oscar
& some curiosities about The Revenant
It finally happened: Leonardo DiCaprio won the Oscar. Despite the numerous nominations - the first one, in 1994, for Best Supporting Actor and the last one with Wolf of Wall Street last year - it's the first Oscar Leonardo takes home. Everybody is happy: the actor, his friend Kate Winslet, very excited during DiCaprio's award, his mother and his fans, of course, who have supported him throught social networks.
A bit less pleased are those who would have liked to wake up with the usual memes on Facebook that make ironic references to Leonardo's failure. We are sorry for you all.
But the question on the lips of – almost – everybody is: did Leonardo DiCaprio deserve the prize? A lot of people say yes, but others say no, seeing the Oscar like a "booby prize" given to the actor after his numerous delusions. If you haven't an opinion about this thorny issue yet, here are some curiosities about The Revenant, for which DiCaprio deserved that gold statue.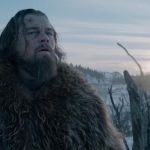 #1 Leonardo DiCaprio had to grow a beard for a year and a half to interpret the protagonist of the movie, Hugh Glass. Rumors say his long, bushy beard had fleas inside.
#2 The film shooting was very hard: scenes have been filmed in Canada and Tierra del Fuego in Argentina, were temperatures fell up to –30 °. The locations of the film were remote and untainted, and 2 hours by car were needed to reach them. The cinamatographer Emmanuel Lubezki (who won an Oscar too) wanted to film only with sunlight. But the problem was that in these places there are only two hours of daylight per day.
#3 Everyday Leonardo DiCaprio had to undergo 5 hours of makeup. He also had to wear 47 different prothesis on his body to make his character look real.
#4 DiCaprio had to empathize completely with his characther, to the point that he had to hunt animals, sleep into a real carcass, let himself be covered with ants and, even if the bear was recreated in CGI, the scenes where DiCaprio gets beaten up are real. But, above all, the actor had to eat a raw bison liver for real. Such an effort for a vegetarian person.
#5 His state of health has also been precarious: in order not to freeze, he had wear a 45 kilo fur. However, the scenes where the actor swims in icy water are real and he was in danger of hypotermia - on set there was a medical unit ready to rescue him in case of need. DiCaprio has filmed some scenes even if he was sick: the cough he has at certain times was real. In fact, he had bronchitis.