LVMH is about to buy the world's most prestigious art gallery?
The multinational of galleries meets the multinational of luxury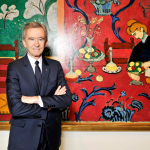 The relationship between contemporary art and luxury fashion is becoming increasingly close. This is proven by the initiatives of François Pinault, CEO of Kering, owner of the Christie's auction house for over twenty years, as well as patron of Palazzo Grassi and Punta Della Dogana in Venice and the more recently inaugurated Bourse de Commerce in Paris. This is also demonstrated by the ambitions of LVMH founder and chairman Bernard Arnault, machete, collector, and head of the Louis Vuitton Foundation, which has its Frank O' Gehry-designed headquarters in Paris. But a new acquisition could open up unexpected scenarios, linking art galleries and the top echelons of luxury even tighter, more fragile, and even more complex, following a merger between multinationals that in addition to changing the dynamics of the contemporary art scene could set a significant precedent in the world of collectors.
According to a rumor launched in Italy on 24 October by Dagospia and reported by ArtTribune, the second richest man in the world after Elon Musk, according to Forbes, Bernard Arnault, is in negotiations with Larry Gagosian, a Californian patron of Armenian origin, for the acquisition of the eponymous mega-gallery, founded in Los Angeles in 1980 and which today has 19 branches and two shops around the world. A rumor that began to spread during Paris Art Week among the stands of the new Paris+ fair, which Artnews and WWD immediately denied. Yet, according to Kenny Schachter, art critic a, and curator, the news would not only be true, but the negotiations would already have been concluded. "Breaking news!" - commented Schachter under the detailed portrait of Gagosian intent, on his knees, on getting an unknown lady to slip a pump: «The Gagosian Gallery has been sold to Bernard Arnault's LVMH. The commodification of art as just another collectible fashion accessory and luxury object is now complete.»
For Arnault, controlling the wide-spread Gagosian empire would mean having control of 100 of the world's most highly rated artists as well as the possibility of launching young artists as the art dealer recently did with Jadé Fadojutimi and Anne Weyant, thus significantly shaking up the art market. If the news were true, a large gallery would become part of a multinational company for the first time. But many questions remain unanswered beyond the truthfulness of the news itself: what will Gagosian's network of galleries become in the hands of Arnault? How will the art business change? And how will it be integrated with the group's other businesses? Indeed, many wondered what would happen to the entire structure of Larry Gagosian who is 77 years old and has no heirs, perhaps Arnault's move could be the answer.