Haruki Murakami and Tadao Ando in the new issue of LifeWear, the uniqlo magazine
The magazine will also be available in physical stores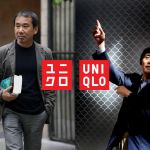 "Find Your Healthy" is the theme of the fourth edition of LifeWear, the Uniqlo magazine born in August 2019 that expands the lifestyle philosophy of the brand's collections. The project, launched only 18 months ago, has already become one of the best examples of the new wave of brand journalism that is gaining ground in the fashion industry. The issue of the spring season will have two exceptional guests: writer Haruki Murakami, author of Norwegian Wood and Kafka on the Beach; and the architect Tadao Ando, who designed, among his many works, also the Armani/Teatro di Milano.
As the title already suggests, the latest issue of LifeWear will be dedicated to health and well-being and, in addition to interviews with the two great Japanese creatives, it will also include articles on cooking, sports and textile technology and exploring the city of Hamburg. Takahiro Kinoshita, Fast Retailing Executive Officer and Creative Director, explained in a note:
«18 months have passed since the first edition of LifeWear Magazine, and the world is in a period of drastic change. The theme "Find Your Healthy" that we have chosen for this issue was born from the deep desire for better well-being, not only physical but also mental, both for the people around us and for the planet».
The new number of LifeWear by Uniqlo is available in store or can be read for free online at this link.