With Party Royale mode, Fortnite will become more and more of a media platformer
Update after update, the online game gets closer and closer to a media platform
Fortnite has recently introduced a new game mode called Party Royale, celebrating its announcement with a surprise performance by Diplo and calling it "a new experimental and ever-evolving space". The official debut of the mode will take place today at 2:00 am (Italian time) with a live DJ set by Steve Aoki, Dillon Francis and deadmau5 that will be repeated tomorrow starting at 20:00. The new game mode eliminates weapons and combat and is instead a space where players can watch live performances by music artists on the main stage but also participate in activities such as running races, obstacle courses and boat races. In addition, players who will connect to Fortnite from Saturday, May 9 at 00:00 to Monday, May 11 at 16:00 (Italian time) will receive a free decorative back "Neon Wings" that reacts to the music.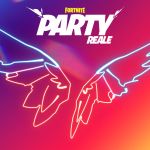 The general idea behind Party Royale is to be able to spend time having fun, without fights, weapons or killings. This change marks a shift in gear for the game: Epic Games' recent partnerships with the world of cinema (with Quibi, for example, or Star Wars, which premiered exclusively for the game last year) pave the way for the screening of in-game movies and video content; while sports competitions could evolve in the future in football and volleyball tournaments. Thanks to the new area, in short, the game could differentiate its offer and offer users a real cross-media platform that cross-links games, music and entertainment similar to that of Second Life, The Sims and Minecraft. With 350 million active players and 3.2 billion hours played this April alone, Fortnite has a huge audience of potential cultural consumers and, as Travis Scott's recent concert demonstrated, its digital events could match real-world resonance and impact – as well as lend itself to a range of potentially endless variations, as there are no physical limitations within the game.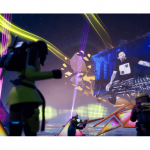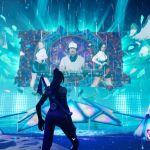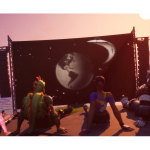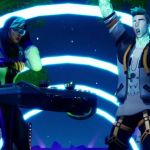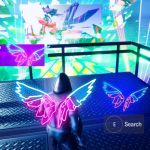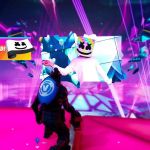 Borrowing an expression coined by Neal Stephenson's novel Snow Crash, the game's creative director Donald Mustard said at the Game Awards last December:
"The more that we're trying to experiment with stuff and try different things, we're finding more and more that our goal is to create a Metavers. [...] To create a place where all [intellectual property] can live together, where all kinds of experiences can happen, where we can create a thing that is totally new — a totally new emergent type of media, really.".
Fortnite is still a long way from becoming a metaverse in the truest sense of the word. For it to be, it should greatly expand and differentiate its offerings and, in essence, mimic at least some of the possibilities of the real world. But if we consider the definition that Wikipedia gives of the concept, that is"virtual shared space, created by the convergence of virtually enhanced physical reality and physically persistent virtual space, including the sum of all virtual worlds, augmented reality, and the Internet.", it becomes clear that, although Fortnite still has to make its way to become it, it is definitely the digital product that is closest to it and that could become in the future the cornerstone of a new concept of media and communication.