Skate Kitchen, the film dedicated to the all-girl skateboarding crew
The cult movie dedicated to the skate culture
Skate culture is living a magical moment both in the film industry and in the fashion world. Skate style has dominated the latest silhouettes of the most important sportswear brands, just think of the AWGE x Under Armour designed by A$AP Rocky, and made its comeback thanks to movies like Mid90s.
Now in Italian theatres arrives the movie dedicated to the all-girl NYC-based skateboarding crew The Skate Kitchen.
The director of the film, Crystal Moselle, became known with her documentary The Wolfpack, before randomly coming across two of the protagonists of this movie, as well as founding members of The Skate Kitchen collective, which brings together girls from different parts of the US and different social backgrounds, all animated by a great desire of trying new tricks and always improving themselves. Moselle was on the NYC subway when she first spotted two girls with a unique style, carrying two skateboards, something still quite unusual, and she decided to approach them and take them out for a coffee. Rachelle Vinberg and Nina Moran accepted with great enthusiasm and for the next months welcomed the director into their lives, showing her in an unfiltered and honest way what it means to be a skater girl today. After having involved them in the short movie created for the Miu Miu Women's Tales Series, Crystal realized it was time to make her first feature film, starring exactly those girls. Many of the facts narrated throughout the movie are based on real-life incidents and episodes experienced by the Skate Kitchen girls, and this is also one of the reasons why the movie feels so real. Moselle let the young skaters improvise, giving them only 'beats', significant moments the dialogues had to lead to.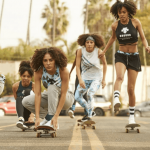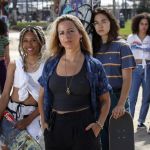 In the film, Vinberg plays Camille, a shy and introverted teenage skater girl who, because of a series of injuries (many of which actually happened to Vinberg herself) is banned from skateboarding by her mother. Bored at home, Camille finds on Instagram the Lower East Side skateboarders crew The Skate Kitchen, with whom she connects, and shortly after she's accepted into the group. She then meets the characters played by skater girls Nina Moran, Ardelia (Dede) Lovelace, Kabrina Adams, Jules and Brenn Lorenzo and Ajani Russell, building a close relationship of friendship, between moments at the skate park, tricks, training, crazy runs through the city, honest conversations, parties and fun. Camille will also fall for a boy, Devon, played by Jaden Smith, who had previously met the Skate Kitchen girls over Instagram when he hit them up with a DM asking if he could join them for a skate session.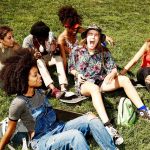 The reason why the film is so true and powerful is that for the first time we find the portrayal of an all-girl skateboarding crew, in a sport for a long time dominated by men. Even the name of the collecttive derives from a certain kind of sexist behaviour: under a lot of YouTube videos showing young girls skating and trying tricks, the comments were all like 'Oh, you should be in the kitchen', and the collective decided to mock and completely overturn this stereotype. As told by Moran herself, who started skating at the age of 12, being a female skater has never been easy: boys wouldn't take her seriously or would make fun of her, she found out that in the skateboarding shop where she used to work she was paid less than her male colleagues, and how disappointed she was when a boy she considered a friend told her that girls would never be good at skateboarding. A similar experience lived also by Jules Lorenzo, who started skating only one year ago: "Boys are like: 'Oh, do you need help with that?' And I'm like: 'Thanks, but I didn't ask you!' They just come over because you're a girl. I already know how to do it, I'm just practising". Nonetheless, The Skate Kitchen girls want to underline that they don't mean to exclude boys in any way, they actually have many male skater friends with whom they practise and talk about this sport, as shown in the film.