The Bromance between Kanye West and Donald Trump
History of a controversial relationship
It's storm again in the United States for a pro Trump talk by Kanye West. Saturday night, the rapper performed Saturday Night Live, dressed as a drink, along with Lil Pump and Teyana Taylor, before starting a surreal monologue in support of Donald Trump. The network decided not to show it, but the video, recorded by Chris Rock was then posted on social media. Kanye, with the ever-present MAGA cap on his head, said, "We need to have a dialogue and not a diatribe, they tell me, 'How do you like Trump, he's racist.' Well, if I was worried about racism, I would've moved out of America a long time ago, follow your heart and stop following your mind. If you want the world to move forward, try love". Shortly after West wrote to his followers: "This represents good and America becoming whole again. We will no longer outsource to other countries. We build factories here in America and create jobs. We will provide jobs for all who are free from prisons as we abolish the 13th amendment (ie the XIII amendment of the Constitution of the United States of America that prohibits slavery and forced labor)." Of course, controversy and criticism have rained on the rapper, increasingly isolated in the battle in favor of Trump, but how did this love for the controversial president start? nss reminds you of the chronicle of an endless bromance, which grew up with tweets.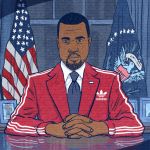 - August 2015. During the 2015 VMA Awards, Kanye West announces plans to run for President of the United States for the 2020 election. Trump's answer? He defines the rapper as a good boy and hopes to run with him.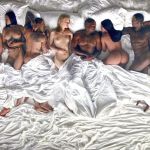 - June 2016. Kanye West launched a preview of the "Famous" video and is immediately a scandal. From Taylor Swift to Kim Kardashian, from Rihanna to Bill Cosby, many different stars are portrayed naked in a big bed. In the video tribute to the famous painting "Sleep" by Vincent Desideri, there is Donald Trump too.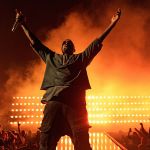 - November 2016. It is November 17, 2016, Kanye West is performing live in San Jose, California, during The Saint Pablo Tour. Suddenly, between one song and another, the rapper, after accusing the African-American community to give too much importance to racism and classism inherent in American society, begins to praise Trump and his communication skills, specifying that, if he had voted, would have supported the tycoon. Result? The audience is so shocked that someone in the crowd decides to leave the show.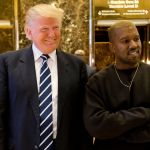 - December 2016. On the morning of December 13th, the rapper unexpectedly enters the Trump Tower for a private meeting with the president. "We have been discussing multicultural issues, including bullying, teacher support, and the violence that has set Chicago on fire," Kanye later reported on social media, while his blond and smiling images next to Trump attracted much criticism.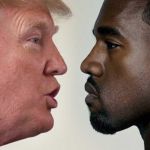 - February 2017. West cancels the pro Trump messages after the proclamation of the Muslim Ban, a measure by which the president blocks entry into the United States to people from the seven major Islamic countries.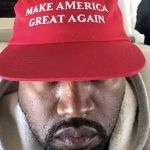 - April 2018. West publishes his own photo with the "Make America Great Again" cap, the famous slogan of Trump and, recently returned to social media after a period of abstinence, he praised (again) Donald Trump in a series of tweets , calling him a brother with his own dragon energy, thus triggering the opposite reactions not only of the hip hop scene, but of the world of music more generally. For a few hours, even the fake news turns, then denied, that these new statements have caused the rapper to lose millions of followers. The "crisis" is so profound that even Kim Kardashian distances herself from her husband's words and, to limit the damage, convinces Kanye to specify "I do not agree with him on everything, but people cannot stop me from loving him". All unnecessary effort, because soon after, West defines 400 years of slavery for African Americans a "choice".
- October 2018.
Kanye West met President Donald Trump inside the White House for a meeting to discuss a wide range of topics regarding the state of America. During the meeting, which was broadcasted live on TV this afternoon, Kanye praised Trump for his views about racism and liberals who throw out the term loosely. "It was something about when I put this hat on, it made me feel like Superman," West said. "You made a superman cape for me, also, as someone who looks up to you … looks up to American industry guys."