The Handmaid's Tale: the first trailer of the second season
The new episodes starting from 25 April
Rain, leather muzzles reminiscent of that of Hannibal Lecter in The Silence of the Innocents, long red cloaks, the regions of the former United States of America become contaminated and unliveable lands, fragments of happy and lost lives and so much loneliness.
These are the images alternating in the first trailer of the second season of The Handmaid's Tale.
The award-winning TV series based on Margaret Atwood's novel is about to return to telling the disturbing world of the Gilead Republic, the state where women are deprived of their civil rights and forced to live as slaves.
The first of 13 new episodes will air April 25th on Hulu in the US, while in Italy will arrive the next day on the streaming platform Tim Vision.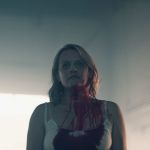 We will know how the story of Difred, now pregnant, and how the adventures of the other maids will evolve.
Among the innovations we will be introducing the Colonies, desolate places where they are sent to work the Unwomen, whose task is to remove the soil from radiation; we will know the True Believers, fanatical of Gilead rules; we will see how Ofglen's escape will end and we will discover more of her past.
Do you want another detail? Marisa Tomei will appear as a guest star.