Kanye West to launch his own streaming service?
There are rumors about an 'Yeezy Sound' project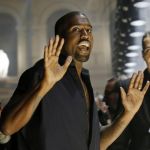 It seems that Kanye West will soon have its own music streaming platform.
Let us suppose it's a document dated November 2, 2017, that has been online for a few hours when the rapper submits the 'YeezySound' brand for purposes that include "streaming of music, audio, images, video and other multimedia content over the internet."
If what is written is true, the project could have a major impact on the music industry and be a viable alternative to other platforms like Tidal.
With the Jay-Z service West has an ongoing dispute for an alleged failure to pay royalties amounting to approximately $3.5 million. The financial battle has spread to the personal sphere of the two hip-hop icons, putting a strain on their friendship, when, during the now famous disastrous concert in Sacramento Kanye has publicly attacked Beyonce, also claiming that Jay-Z has the means to have him killed.
There are still no official confirmations on 'Yeezy Sound', but along with West's appearance last weekend on stage with Kid Cudi, it seems that the star is ready to go back to work after a long break.