Breaking Bad: the entire series made into a 127-minute movie
You can now enjoy all the five season, the sixty-two episodes and the fifty-five hours of the serie in a blink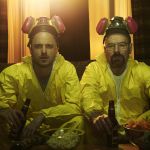 And if Breaking Bad was a movie?
Many wonder about it, but only Lucas Stoll and Gaylor Morestin have done something concrete, they have condensed the adventures of Walter White and Jesse Pinkman in one film. The pair of French filmmakers has reduced five seasons of the AMC series, ie 62 episodes, in just 127 minutes. They have collected the most important scenes and turn them into a continuum, a single story that now is a legend.
Perfect for those who have not the time for the 55 hours required to binge watch the original series.
You know or not Walter White aka Bryan Cranston, professor of chemistry that after finding out you have lung cancer decides to use his chemical knowledge to take control of the drug market, this film is the perfect opportunity to find out or rediscover it.
Enjoy it on Vimeo!