Not the usual Christmas playlist
An alternative music selection by nss magazine to make your grandma dance during dinner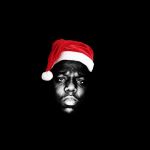 We decided to wish you a Merry Christmas in the most conventional way possible, with a gift. And among the many gifts we could get you, we chose music.
All the editors of nss helped to put together an unconventional Christmas playlist, we chose a lot of nice records that will accompany you during these parties. But if in the choice of the gift we were conventional, we definitely were the opposite in the choice of the songs, not the usual soundtrack typical of this period but a series of pieces that while strongly recalling the Christmas atmosphere, are not part of the "tradition".
In fact in this playlist you will not find Michael Bublé or Frank Sinatra, but a series of artists that with Christmas have something to do, for example: Phoenix, Chuck Berry, Skid Row, Run DMC, The Smashing Pumpkins, DMX, Bob Dylan, Tyler The Creator and many others. We strongly recommend that you play this playlist during the Christmas Eve dinner and you will see your grandmother let herself go of the notes of "Santa Claus Go Straight To The Ghetto" by Nate Dogg and Snoop Dogg.
From the nss staff, Merry Christmas!