Skepta is coming to Milan
Happening this December and we got the details
When thinking about British Grime music, it is hard to think of anyone who is bigger than Skepta at the moment. The UK artist has since the start of the 2000's steadily grown to become one of the biggest UK artists all around, far transcending bounds of genres and subcultures. One of the few Grime artists that have received critical acclaim by being both nominated and winning a number of awards, among them the BRIT's, BET, Mercury, and MOBO. His Nigerian heritage has always been a strong part of his persona, and earlier this year he was even installed as the chief of his Nigerian hometown in Ogun State.
Recently his accolades have resonated over to the states, where his collab track with A$AP Rocky, Praise the Lord became one of the big hits of the summer. A man who's fashion interests have also always been a large part of his expression, often seen wearing brands like ALYX, Moncler, Palm Angels, Dior and of course his own collaborations with Nike. An artist of truly grand proportions, Skepta has just announced he is coming to Milan on December 1st at Circolo Magnolia, Segrate.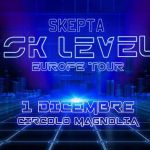 Check the event link
here.
Tickets are available here.