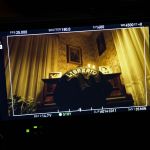 Two mirrors videos, two different perspectives on an adolescence dream made by Whatsapp vocal messages, tiptoed kisses and the beginning of the Neapolitan summer.
This is how the director Francesco Lettieri decided to illustrate with his camera the lastest Liberato's singles. The videos - released 24 hours apart from each other - tell the jealousy and tenderness of a young love story from the point of view of Adam in INTOSTREET and from the eyes of Demetra in JE TE VOGLIO BENE ASSAJE. The thorny and pure sentiment of the couple is embodied in Liberato's classic sign: the rose that Demetra bring on her neck in the pendant made by Paola Grande Gioielli.
On the background of the two lovers there's him, the singer with a mysterious identity stamped on his bomber and on his One Star Converse. As always happens in Liberato's videos the real protagonist became the city - Naples - shown in all its breathtaking beauty and freshness.
nss magazine went to the backstage of the videos to show the hidden work behind Liberato's imaginary.