The Kanye West's surprise on Kid Cudi stage in Chicago
Together they sing"Father Stretch My Hands, Pt 1."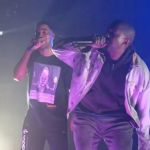 Kanye West is alive and kicking.
After months of self-exile in the mountains of Wyoming, maybe to work on the new album - say some rumors, on Saturday 4 November, the rapper appeared on the stage during a Kid Cudi's concert at Aragon Ballroom in Chicago.
Together they sang Father Stretch My Hands, Pt 1. sending the audience into raptures and hugging at the end of the song.
That last weekend was the first public appearance after almost a year of absence; the last Kanye live, in fact, dates back to November 19, 2016, in Sacramento. On that occasion, the artist had started the show with 90 minutes of delay, had performed for 15 minutes, had stated his esteem to Donald Trump and had flung himself against Jay-Z, Beyoncé, Hillary Clinton, Google and Facebook.
After that, he canceled his Saint Pablo tour and the rapper was hospitalized in Los Angeles for exhaustion.
The show with Cudi, defined by West as "the most influential artist of past 10 years", leaves hope for a happier future and an imminent come back to the scene.