The 5 best moments of the first night of Sanremo 2023
Fear and Loathing in San Remo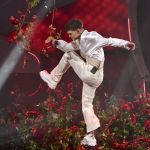 Yesterday, the 73rd edition of the Sanremo Festival officially began. The level of locura and Italian-ness was very high. Within the first few minutes of the Festival there was this multiverse crossover in which Gianni Morandi sang the Italian national anthem in front of President Mattarella, while just offstage stood Chiara Ferragni and Roberto Benigni along with half of today's institutional music scene. The level of pop campiness was beyond belief, and frankly that was exactly what we wanted. The evening then continued between ups and downs: due to somewhat malfunctioning acoustics, the lyrics of some of the songs were not understood very well, many of the younger singers were not quite in tune, the video editing of some performances was too hectic and fragmented - all fully negligible issues in the face of an edition of the Festival that had never had so much energy but also, above all, so much self-awareness of its own being a great meta-show. At one point Chiara Ferragni christened Amadeus' Instagram profile-and that was not even the most absurd moment of the evening.
If this was just the beginning, let's get ready for five of pure fire and brimestone.
1. Blanco and Gianni Morandi
The moment that will perhaps be most talked about in this edition came right at the beginning, just after midnight. Blanco does not get sound and devastates the set - something Blanco does as his usual routine onstage but which at the Ariston, more of an altar than a theater, becomes inexcusable, all the more so considering that Sanremo is the city of flowers. However, the moment, despite the booing and disapproval it rightly elicits, represents the only sincere disruption in a musical world where even the most transgressive of rock stars (i.e., Maneskin) declare themselves teetotalers and are all in all good guys. Youth music is also anarchy and impropriety, but Blanco, singing Brividi, had already preemptively apologized «if then I make a mess of if all» - a romantic antihero is also this. Add to that the fact that Blanco recently released a video for L'Isola delle Rose depicting him smashing flowers left and right exactly as seen on the Ariston stage, ergo in all likelihood it was all part of a great performance: virality achieved. On his shoulders Morandi builds: the moment when he sweeps the smashed roses off the stage together with the staff was a media genius exercise in humbleness, a meme image, in short, an iconic moment.
2. Piero Pelù stealing a bag
On Pierò Pelù we were not ready to bet, let's admit it. His performance on the outdoor stage was supposed to be a side dish, an accessory. But instead it made it into our rankings precisely because of an accessory. Toward the end of the performance, Pelú approached a woman in the audience, snatched her purse out of her hand, and twirled it over her head on stage. The moment was a great reference to a similar scene from 2020 in which Pelù stole a purse from a member of the Ariston audience, clearly putting it outside the theater did not stop him. And thankfully so. The bag, frankly, was not beautiful-its unexpected theft, however, gave us a much-needed laugh yesterday, as always. All part of the great Fantasanremo game? Maybe yes, maybe no. Frankly, it doesn't matter.
3. Goth Mahmood in Rick Owens
«A piece of Italian music history» so Amadeus called the song that led the unlikely duo to triumph. Blanco and Mahmood returned to the stage that crowned them winners in the 2022 edition to sing Brividi once again, in a heartfelt, moving, and vocally flawless performance (we cannot say the same for the contestants in the competition, unfortunately). For the looks they relied on two exceptional fashion houses: the singer of Blu Celeste in Dolce&Gabbana with styling by Silvia Ortombina, while Mahmood opted, with the help of Susanna Ausoni, for Rick Owens. Sheer over shirt and contrasting optical white tank top, cargo pants, iconic grill kiss boots with heels. A bold, exquisitely goth look that lifts us out of the tepee of mundane choices we are used to seeing on the Ariston stage.
4. The super romantic performance of Coma_Cose
Fausto Lama and California, dressed in Vivienne Westwood green and gold, brought a Punk in love to the Sanremo stage. With the single L'Addio (Farewell), the duo and couple Coma Cose recounted their love story and its ups and downs, through images inspired by a moment of estrangement the two recently passed. A studied but extremely genuine performance, dictated by sincere, love-filled glances and intertwining hands, crowned at the finale by a kiss. The deeply romantic lyrics include words of hope, and a direct quote to Fiamme negli Occhi, the song that Coma Cose brought to Sanremo 2021. «And now and then we forget/But our fire has seen it all». Social media went crazy for this moment so full of love, and we with them.
5. Anna Oxa
As soon as Anna Oxa walked down the stairs, all fashion addicts in front of the TV started elocubating hypotheses about who could be the designer behind the singer's total black look. Junya Watanabe? Rick Owens? Ann Demeulemeester? Yohji Yamamoto? The mystery remained as such, and considering that Oxa chose to be her own stylist, we will have to wait for her to reveal it to us. In the meantime, we can say that that strict, borderline monkish outfit with asymmetrical jacket, ruffled draped skirt and platinum blond hairstyle reveals a new face of the chameleon star we love so much, even when she's dressed as an art dealer in Berlin.