Why viral dances are filling movies
In the same footsteps as Wednesday and Matilda, M3gan's dance moves are a TikTok hit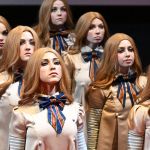 Just when social media seemed to have moved away from the craze of viral dances, such as the Renegade and Say So tunes that dominated 2020, the film industry seems to have decided to go all in on them. The latest example of this big-screen marketing technique is Gerard Johnstone's thriller-horror M3gan; with a couple of moves to the tune of Taylor Swift's 'It's nice to have a friend', in the trailer released in December, the murderous doll managed to get noticed on TikTok, securing a push to the top of box-office charts even before its debut in cinemas on 4th January. The success of M3gan's choreography is no accident, and rather a stunt by the publicists who worked on the film. In an interview, actress Allison Williams said that before the trailer was released, the short dance was in about to end up in the bin, but was then left under the advice of the marketing team, who believed so much in its 'meme-able' potential they hired a dance troupe to bring it back to the red carpet. It is now clear that TikTok has taken the lead in box office results, and in the film industry those who have noticed did not wait long before taking advantage of that.
This same publicity mechanism had also made Roald Dahl's Musical Matilda go viral on social media in November, a few days before the film appeared on the Netflix page and in British and Irish cinemas. One of the clips from Revolting Children on the Sony Pictures UK TikTok account reached almost 8 million views, without counting all the stitches (reposts with added videos from other users) in which people from all over the world expressed their admiration for the talent of the cast. For choreographer Ellen Kane (the list of musicals she has worked on includes Billy Elliot and West Side Story, just to name a few) the success of this dance came as a surprise. It may be, but the phrase 'I wasn't expecting this' is not new. In the same month, Jenna Ortega had also said that she was stunned at the positive reaction the Chinese social media had to her dance designed for the Wednesday series. 'I can't believe it, the fact that someone shows they like that sequence by even trying to remake it for me is incredible,' the actress explained in an interview.
The use of dance in films has been successful since the days of silent cinema, and now thanks to TikTok it can also take credit for making small-screen-aficionados repopulate cinemas. Forcing filmmakers of all genres to study scenes aimed at going viral (and annoying the most critical cinephiles), TikTok attempts to rewrite the rules of film marketing with only one rule: not to take yourself seriously.