Touring is becoming increasingly inconvenient for musicians
The risk for musicians to spend more money than they earn is real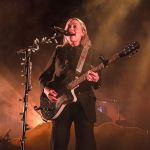 In recent months, bands like Disclosure and Arlo Parks have decided to cancel all or part of their tours, while others, like the Strokes or Wet Leg, have had to cancel individual dates. Animal Collective were also scheduled to play several European cities this autumn; however, on 10 October they announced that the entire tour would be canceled because it was financially unsustainable: «From the devaluation of the currency to the increased shipping and transportation costs, we were unable to budget for this tour that wouldn't lose us money even if everything went well,» reads a post by the US band on Instagram. While the reasons for each artist may be varied and depend on many factors, there are some recurring problems with touring: the constant risk due to covid, the prohibitive increase in costs, and the possibility that there will be no financial return to match the effort.
2022 was supposed to be the year of a relative return to normalcy for the music and concert scene after two years of canceling most events due to restrictions to curb contagion. According to Live Nation Entertainment, which handles ticket sales for live shows internationally, expectations were indeed high, and the data proves it: more than 100 million concert tickets were sold in the first six months of 2022 - more than in all of 2019. The fact that thousands of bands and singers were on tour at the same time caused problems: Musicians were forced to compete with each other for spots in venues, arenas, and stadiums. Overlaps like the one in London on 3 July, when Elton John and the Rolling Stones played at the same time but at two different venues, are therefore not surprising; it happened a little later with Lady Gaga's concert and Phoebe Bridgers'. And again: two bands that serve a similar genre and have many fans in common, Sigur Rós and Godspeed You! Black Emperor, played on the same evening in Milan.
«Too many artists are touring at the same time, leading to a shortage of almost everything, whether it's guitar amp valves that used to be supplied by Russia, vans or roadies,» Bloomberg summarises. Circumstances outside the music business, but affecting many industries, have also driven up the cost of organizing tours: These include inflation, the fallout from Brexit, and the Russian invasion of Ukraine, which has cut into Russia's supply of components. But the real problem remains covid: although no new restrictions are in sight, artists still risk contagion while on tour, leading to complicated rescheduling or, more often, the cancellation of some dates with the associated reimbursement obligations. «We don't want to risk our physical and mental health,» said Animal Collective, for example.
This applies not only to musicians but to the entire entourage of bands or singers, where there are often professionals who're difficult to replace. For international tours, the matter becomes even more delicate because it's even more complicated to find someone to replace the sick technicians and because there are additional costs for hotel rooms to accommodate the sick. In addition, tour and concert insurance doesn't usually cover cancellation of a date due to coronavirus-related causes, but is limited to illnesses such as the flu. Such costs, therefore, fall directly on the artists themselves and can be very high in some cases: «If one of our dates at a stadium is canceled, we can expect to lose $3, $4, or even $5 million when we factor in stadium rental, flights, days to set up the set and ticket refunds,» Bill Zysblat, who's organized tours for the Rolling Stones or Lady Gaga, told the Finacial Times.
Preparing to go out on a tour for two weeks, and watching artists like animal collective and Santigold cancel bc it's unsustainable. Please wear masks to our shows- it protects everyone + our huge monetary investment to get to your city

— Kailynn West (@tinystills) October 10, 2022
The resumption of touring after the pandemic experience was seen as very important, both for those working in the live world and for the music industry as a whole, which, in the face of falling sales through streaming, now relies so heavily on concerts that they've become the main source of income for many bands. Not only has this upswing been somewhat dampened by circumstance, but many musicians have pointed out the inconvenience of being on tour at such a stressful time as live music is going through. «At the height of the pandemic, it had been hoped that by stopping touring, the music industry would solve the myriad of problems musicians face when trying to make a living on tour. That obviously hasn't happened, and artists have begun to wonder if it's all really worth it - touring for months on end, with the physical and mental toll it takes, and the sky-high expectations that come with fame,» Vulture summarises.
For this reason, so-called "residencies", i.e. the practise of playing in the same city for several weeks instead of moving between centers, are becoming more and more common. While artists like Harry Styles or LCD Soundsystem make use of this option, it's less feasible for smaller bands, who, mind you, suffer the most from this situation. So the problem also has a big impact on the audience: the supply of big names - who've solid organizational and logistical structures and are thus better financially secured in case of unforeseen events - is increasing, to the detriment of smaller and alternative projects, for whom touring is now a jump in the deep end.