Calendario Pirelli 2017
The first images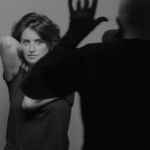 No naked bodies nor photoshop. The Cal 2017, shot for the third time by Peter Lindbergh, has a new philosophy: telling the beauty ''freeing women from the fear of perfection''. In front of the photographer's lens, some of the most popular actresses of our time: Nicole Kidman, Robin Wright, Kate Winslet, Helen Mirren, Penelope Cruz, Alicia Vikander and Uma Thurman; all women with a great sensuality and beauty.
Peter Lindberhg, 72, continues to collect major assignments. In 1996 he snapped the first of the calendars he signed for the Bicocca group in California, followed in 2002 by the one set in the Studios, starring Kiera Chaplin, Brittany Murphy and Mena Suvari, until the celebratory shoot on the occasion of The Cal 50th anniversary, with top models Alessandra Ambrosio, Helena Christensen, Isabeli Fontana, Miranda Kerr, Karolina Kurkova and Alek Wek.
Times Square, where in the past photographers of The Cal decided to work for their shots, will not be the only scenario, but only one of the four locations chosen for the occasion.
To make the wait more sweet, here's a video preview: