Stella McCartney's POP video campaign is all about pink
CC: Grimes, Lourdes Leon, Amandla Stenberg & Kenya Kinski-Jones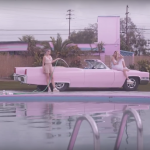 To celebrate the debut of her first fragrance, POP, Stella McCartney decided to go big. She chose four female icons of the new generation – the pop star Grimes, Madonna's daughter Lourdes Leon, the emerging actress Amandla Stenberg and Nastassia Kinski's daughter Kenya Kinski-Jones – and gathered them in the Californian desert, giving birth to a campaign which is a tribute to all things pink.
The short video which accompanies the images, directed by Melina Matsoukas, was released today and we can't stop watching it: the girls wake up in a villa with shocking pink walls and leave for the desert aboard a powder coloured convertible that later turns into a swimming pool.
The final destination is the desert, where, inebriated by the notes of the fragrance, the girls let themselves go in a tribal dance, illuminated by POP neons. Shocking pink, of course.