AWAY DAYS
A movie by adidas Skateboarding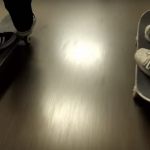 Aways Days, the first documentary by adidas Skateboarding, arrives today in Milan.
The title pays tribute to a trip outside one's hometown, to pursue a dream: that of a life lived on a skateboard. Shot over three years starting in 2013, the film tells the story of the best riders worldwide, with a focus on their explosive personality and the variety of their styles.
Away Days will be available for free for 24 hours on May 29 on Youtube and on sale from May 30 on iTunes.
All the garments and the sneakers of the adidas Skateboarding collection are available at adidas Originals Milan flagship store in via A.Toqueville 11, which today will host Vivien Feil and Leo Valls, who took part in the film, for a special meet & greet from 6.30 to 8.30 pm.
Watch the trailer here: