Beyoncé is launching a streetwear brand
Along with Topshop owner Philip Green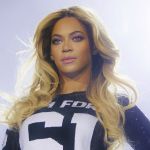 Beyoncé is working on the launch of a new streetwear brand in collaboration with Sir Philip Green, no less than Topshop owner.
Arcadia Group, the company to which Topshop belongs (along with Topman, Miss Selfridge, Burton, Dorothy Perkins, Evans and Wallis) has declared: "We are developing our distribution globally for the launch of this exciting new brand in spring 2016".
We still don't know the name or the features of the brand, but numerous questions surround the news: will the collections be designed by Bey herself? Will her curvy body be the reference model for the clothes? Will it be sold inside the Topshop mega stores or we'll assist to the opening of new dedicated boutiques? Stay tuned.