Lacoste x Lesage
Lacoste meets haute couture
To celebrate the 50 years of the brand Lacoste teams up with Lesage, historic French embroidery brand.
Felipe Oliveira Batista, creative director of Lacoste since 2010, goes back to his first loves: the architecture studied at school and the haute couture of his beginnings. From this mix the first collection of haute couture polo shirts is born. They are the most precious the brand has ever produced: they are characterised by writings and slogans which recall sport and fair play and meet the themes of the most famous videogames. The 8 polo shirts of the collection will be the protagonists of an exhibition at Palais de Tokyo in Paris, "Players", along with haute couture week.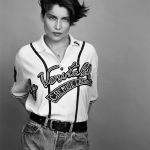 The faces of the collection are 8 iconic French women: DJ Clara 3000, actresses Emmanuelle Seigner, Laetitia Casta, Audrey Marnay, Cora Emmanuel and Constance Jablonski, and dancer MarieAgnès Gillot. Each of them embodies a style and contribute to the play between Lacoste and Lesage. Game, set, match.