Find Philipp Plein game
nss factory for Philipp Plein
Explosive new gem for the section PLAY! of plein.com. The site, renovated and innovative, created by nss factory, an innovative agency based in Milan, is the mirror of the real world and fantasy thought by PHILIPP PLEIN. Visiting it is a 360° experience, with a number of sections, to be discovered on any device thanks to technology strictly responsive : collections , events, news, fashion show, new stores and the online shop where you can find and choose their own leaders and favorite accessories. Until you get behind the scenes to learn about everything, absolutely everything, the world PHILIPP PLEIN. Even as a challenge his cunning and unpredictability.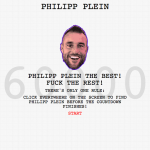 So here is the section
PLAY!
Here is the new and exciting video games:
FIND PHILIPP PLEIN
. The game is based on immediacy and simplicity touch, really user friendly and funny. Just a second, and you are ready to interact. Striking a click, you need to locate and stop the face of Philipp Plein. Hidden among those of the models paraded for the show men's Spring/Summer 2014. Simple is not it? Just that things get complicated as. The faces multiply and run faster , faster and faster . The difficulty grows. The concentration increases. The clicks are going crazy. Time is short. The adrenaline rises. Where is Philipp Plein? Among smiles, winks of the eye, fluorescent colors, polka dots and pixels, the search for the designer gets hectic and exciting. And the score is growing every success.
In an elegant and minimal graphics context, the kaleidoscope of faces takes life to give us a gaming experience with an exponential growth in adrenaline. Click click click! Only the most patients and luckiest will collect the points needed to climb the ranking and to earn the coveted podium, dealing with social friends thanks to social sharing, easily achievable with a couple of extra click. To compare rankings and achievements virally spreading a pleasant high-adrenaline escape. Who wins? Who faster finds Philipp Plein. So what are you waiting for? There's no time to lose! The address is plein.com, the section is
PLAY!
, The game is
FIND PHILIPP PLEIN
. And who finds Philipp, finds a treasure. Of fun