The discreet charm of Jacob Elordi's wardrobe.
The new, modern expression of "throwaway chic" in the 1990s
Ever since Jacob Elordi showed up at the premiere of Priscilla, Sofia Coppola's new film, in Venice, the web seems to have gone crazy. If the world of television churns out dozens and dozens of poster boys every year who then go on to get lost in the vast sea of thirst traps on Instagram, few actors actually manage to carry their charms into the realm of sex symbols. But this year Jacob Elordi has, in a manner of speaking, pleaded his case to become a future sex symbol through a stunning series of looks that have gone viral online: whether it's a Celine tuxedo without a tie, Bottega Veneta suits and handbags worn with the most casual outfits conceivable, Valentino boots worn with Nike terrycloth socks, a white Zegna sweater casually paired with Louis Vuitton's now-iconic yellow Speedy, Elordi has managed to break out of the morass of artificial looks engineered in a lab by stylists and create a style that feels truly personal. Not that the actor is some kind a fashion genius, and it is clear that his good looks play a key role in the dynamic of why we like him, yet in recent times Elordi has embodied to perfection that principle once enunciated by Carrie Bradshaw, «I was looking for the perfect $7 vintage dress to go with my $300 shoes», according to which every high-profile piece we wear should be balanced with something quieter, so as not to give the impression that we are dressed up.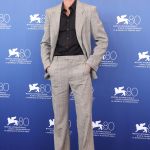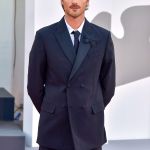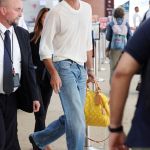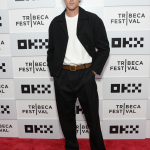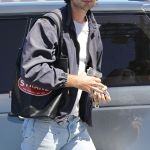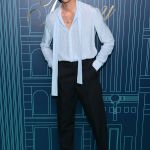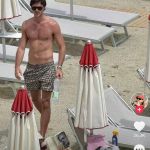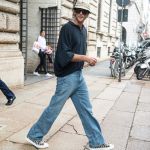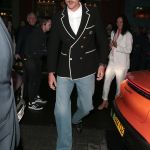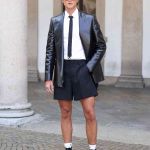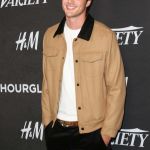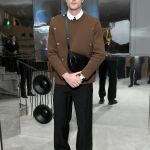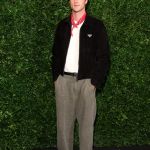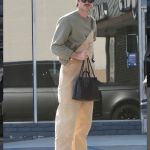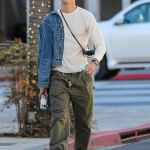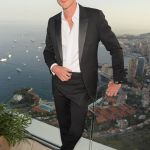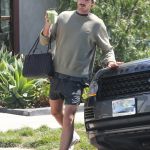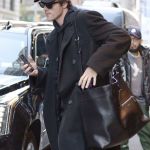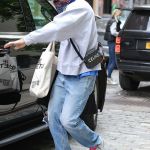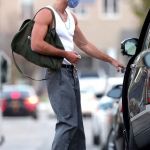 Specifically, fans and the press have noticed Elordi's penchant for luxury bags. We are not talking about the classic logo waistbag, but real it-bags are among the most sought-after and expensive. That's it: These highly visible and recognizable bags are almost never paired with "editorial" outfits but their impact is tempered by simple outfits, linear styling, and down-to-earth color schemes. The other day, in Venice, accompanying Louis Vuitton's brilliant Speedy, the actor wore jeans, lustrous black loafers, and a white sweater with silver jewelry and watch, on his head a (very overpriced) Paly Hollywood hat that read James Dean Death Cult. If not for the bright yellow Louis Vuitton bag, the look would have been completely casual. Only the cut and fabric of the Zegna sweater, with its forearm-length sleeves and thick collar, could have betrayed the presence of designer clothes in the look. At a dinner for Burberry in Los Angeles last year, the look was more constructed (the button-up sweater, the shirt with tie, the Cartier Tank on the wrist, the handbag) yet it did not have the artificial appearance of those copy-and-paste looks from the runway show that more "pure" influencers wear against every law of verisimilitude. In another memorable look, a Prada jacket with a clearly visible triangular logo was paired with a white T-shirt, baggy gray pants, adidas sneakers, and a red bandana knotted around her neck: the nonchalanche with which the statement jacket was mixed with the other, very normal and anonymous outfits is something to aspire to.
In a fashiontainement industry where having the best look does not mean also having the most wearable look, Jacob Elordi shines because of the simplicity and naturalness of his choices. In fact, he shines precisely because, when it comes to clothes, the choices really look like his own; those are looks the actor actually leaves the house with. No less, the looks remain fresh because, while they remain familiar in their composition, they do not give the impression that they are following the trend of the moment, they never go beyond reasonable and they are never pretentious. A type of style between normcore and Nolita Dirtbag that is already starting to spread: a few days ago A$AP Rocky was seen getting into his car wearing a sporty outfit (hoodie, Puma shorts, and a pair of Asics) but carrying a Kelly Depeches 36 briefcase by Hermès; but also Jeremy Allen White, recently hailed as the new messiah of menswear for his totally disengaged looks, and Justin Bieber, who recently went viral for dressing (in our opinion, deliberately) in sweatpants to accompany his wife Hailey Bieber, who had opted for a decidedly more upscale tone instead. Imagine sportswear or workwear, unkempt beards, bad boy tattoos and earrings, and ensembles unassailable in their elemental simplicity with the accessories in charge of manifesting more flair. Could this be the new way of menswear? We don't know. For now, let Jacob Elordi try to point it out to us one look at a time.