The Moncler x FRGMT collection co-created by Hiroshi Fujiwara
The collection's garments as a tribute to "different ways of loving and showing love to others"
The Moncler x FRGMT collection, designed by Hiroshi Fujiwara as part of the Genius Project, represents the long love story between two worlds, Moncler and FRGMT. It is one of Moncler Genius' longest relationships, characterised by mutual appreciation, passion for creativity and, above all, love. This is reflected in the new Love is Human campaign, shot by Tokyo-based photographer and filmmaker Xavier Tera. The campaign was shot from the perspective of a LOVOT, a loving robot created to spread unconditional love, which was first unveiled by Fujiwara at The Art of Genius in London. During the event, Fujiwara dressed LOVOTs in garments from the collection as a tribute to "different ways of loving and showing love to others".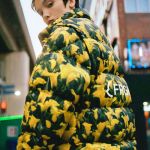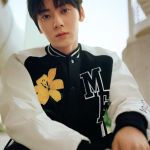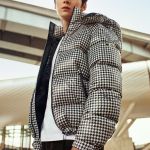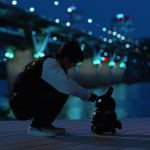 The campaign, set in Seoul, features Hwang Minhyun, Moncler's brand ambassador and a long-time friend of the two brands. The collection itself is a love letter to Moncler, signed with a new logo in which Moncler's iconography "embraces" the letters FRGMT, while the graphic motifs are inspired by the brand's archives while reinterpreting its distinctive codes. The signature garment is the Varsity jacket: a model loved by Hiroshi since the 1980s, now reinterpreted for a new audience. Each jacket is serial numbered, making it a unique collector's item, and the name of the Milan street where Moncler's style office is located is printed on each piece. Houndstooth patterns multiply on the iconic down jackets and photo prints of wild yellow lilies are a clear reference to the mountain world, a cornerstone of the brand's heritage.
The Moncler x FRGMT collection will be available from 8 June in selected Moncler boutiques and on moncler.com.