Why do so many sneakerheads buy fakes?
Study reveals the world's most repped shoes
Although investing in a pair of counterfeit shoes is a bad idea, aesthetic factor aside, more and more sneakerheads are succumbing to the allure of high-end replicas offering the same look as expensive or even unobtainable trainers. Today, being able to distinguish an original from a knockoff is increasingly difficult, and the prices are not that different either. According to a study by hotukdeals, which analyzed thousands of sites and social profiles, the 25 most commonly counterfeited sneakers alone represent a black market of almost £3 million, with an average price difference of only 16% less ($37).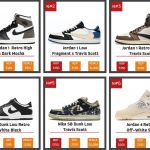 Hotukdeals' observations also reveal that the main reasons for buying counterfeit trainers are not primarily the cost of the retail product (8%), or resale (37%), but rather its unavailability (48%). Less than 10% of the respondents openly stated that they bought counterfeit shoes because they could not or did not want to buy the legitimate retail versions, and some (6%) even explained that they bought the counterfeits so as not to ruin the originals, left neatly packed on their shelves at home. With more than 3 thousand posts dedicated to quality control and product reviews, the Air Jordan 1 Retro High OG Dark Mocha tops the list as the most counterfeit black market trainer. Followed by the Jordan Fragment Low x Travis Scott 1, the Mochas were launched in 2020, currently on sale with a resale price of $531, retail at $170, and replica at $128. Nike is by far the most copied brand, dominating the sector by 88% also thanks to the popularity of the Nike Dunk Low Black White 20, while only 12% of the most counterfeited silhouettes are occupied by the Yeezy.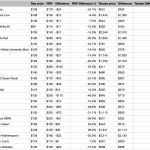 According to hotukdeals' consumer expert, Vix Leyton, the original sneaker brands themselves are one of the main causes of the success of the black market, as «they have found a winning formula in creating incredible hype for releases and limiting the number of trainers released,» explained Leyton, «this has caused a supply and demand problem that, according to our study, fuels the resale and counterfeit markets.»