Fashion is increasingly like the soccer trasfer market
Ready to place your bets?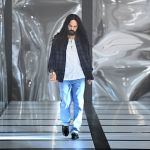 The fashion bubble has quirks all its own. One of them, when creative directors leave a brand, is to speculate where they will go next and which new designer might take their place. It's a mechanism that closely resembles that of the soccer transfer market, where fans and insiders alike engage in predictions and speculation based on sightings and gossip that are often quite implausible. Recently this frenzied curiosity has been turned on Alessandro Michele who, having left Gucci, has been at the center of speculation that wanted him now at Chanel, now at Bulgari, now at Lanvin, and so on. There was also the long year when every name imaginable was made for the creative direction of Louis Vuitton, which then ended up in the hands of the person no one expected. The truth is that, as an audience, we are accustomed by social media to a daily, illusory closeness with these designers, and we would like to know everything about their next moves - a bit like fans follow a soccer player's carreer. The secrecy that brands and designers maintain about these deals, protected by a thick curtain of NDAs, only serves to increase this frenzied curiosity. Trade newspapers also love these news stories, which, by the way, have the power to make a brand's stock rise or fall - proving that behind so much speculation lies a media value whose presence is instead very real.
This kind of attention demonstrates, to some extent, how fashion has become a real form of entertainment today - after all, the word "soccer transfer market" refers both the set of negotiations for the transfer of a player and the industry that revolves around these negotiations. In a world where the general public is often closer to the brand's storytelling on social media than to its clothes, knowing whose hand will be signing this or that collection (or even knowing in advance) is almost better than buying the actual products. The truth, however, is that when a creative director is hired, the motives are not what the public would expect: while on this side of the veil the public sees the legend and mythology of fashion and assumes that a certain creative director is hired based on aesthetic and artistic affinities, brand recruiters look at dividends, results, efficiency, and generally a number of arid technical and contractual issues that would drain the inspiration from even the most idealistic of enthusiasts. The appeal of fashion lies in the naiveté of those who participate in it - naiveté that is half self-aware and half not. An interesting trend however can be recognized in the way that today, in search of concreteness and reality beyond the illusions of marketing, the public becomes more attached to individual designers who, as a consequence, carry a more or less extensive following: Phoebe Philo has been out of the scene for years but maintains an ever-widening following; the same was true of Virgil Abloh and is true of Alessandro Michele.
It must be added, however, that the current situation in the fashion world feeds this "soccer trasnfer market" atmosphere quite a bit. Today, four of the industry's most prominent and proven designers, Michele, Tisci, Kris Van Assche, and Jeremy Scott, are not allocated to any brand - indeed, for all intents and purposes, they are luxury freelancers. If until just before Virgil Abloh's untimely death it seemed that we had to get used to a new establishment that would last forever, after it the apparent pillars of the earth were shaken and the game of musical chairs restarted. The turnover of creative directors brought new faces and names to the scene, lifting up independent designers such as Ludovic De Saint Sernin but also leaving unemployed creative directors who had dominated the culture of the previous decade. Add to this, in addition to the usual NDAs, the non-compete contracts that perhaps prevent these designers from working for a certain amount of time, forcing them to be unable to unburden themselves about their fate, ending up fueling ever wilder doubts and assumptions - but not even a week like this, in which two famous brands like Moschino and Trussardi lost their creative directors in quick succession, makes one believe that this is the end of the resounding news we will hear.
Finally, this obsession with which creative director will end up in which brand also underscores how, albeit unique in its own way, the identity of the designer is increasingly becoming detached from that of the brand - if in the designer era of the second half of the 1900s designer and brand were one and the same, now, in the age of the soccer market, we can imagine a Chanel by Alessandro Michele, a Louis Vuitton by Wales Bonner, and a Loro Piana by Phoebe Philo. Not that this is a bad thing in itself, but it is clear that, starting with a set of basic elements characteristic of each brand and always recurring, a brand identity is increasingly abstract and freely reinterpretable. Which is also the mechanism behind the "eras" of brands, such as Tom Ford's Gucci or Hedi Slimane's Dior or Marc Jacobs' Louis Vuitton, which, precisely, in the absence of intentional citations by successors, often remain isolated in their own identity like so many independent brands. Even between Daniel Lee's Bottega Veneta and Blazy's there are abysmal differences - and not only are the two periods contiguous, but Blazy worked with Lee as Head of Design. Which, again, is not a bad thing but makes the days when fashion storytelling was focused on single, centralizing authors seem remote. Of course, in those days, there was no soccer trasnfer market: if you founded a brand, you creatively directed it. Be that as it may, yesterday as today, designers remain as idolized as athletes - there are those who pay the same ecstatic worship to Martin Margiela, Alessandro Michele or Virgil Abloh as they still do to Maradona. It only remains to be seen how many in the fashion soccer market have the same skills as a Maradona.