Kering hired a "brand safety" boss
Francois-Henri Pinault's statements and a new modus operandi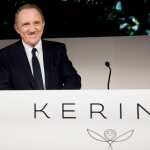 Given the Balenciaga scandal, 2022 was undoubtedly a difficult year for Kering. It is also for this reason that the luxury conglomerate, through its president and CEO Francois-Henri Pinault, has decided to re-evaluate its modus operandi, to continue to monitor the work of the brands that make up the French giant and to hire new people in charge of "brand name security".
The most significant scandal has been the Balenciaga advertising campaigns, commented on only a few days ago even by Demna himself, who has remained silent in recent months. Kering executives, including Balenciaga's creative director and CEO, felt compelled to apologize, not only to stem the hatred on the internet but also to limit what Pinault said would be a "significant impact" on Balenciaga's sales in the UK, Middle East, and the United States between late November and December. «Balenciaga still has a lot of work to do to restore its image in the United States,» Pinault told reporters at the presentation of the group's annual results. The Kering CEO acknowledged that there had been "misjudgments" and that the ads were immediately withdrawn. «We will take further action» he added, revealing that a new head of "brand safety" will review, scrutinize and assess major advertising campaigns on how they might be perceived and criticized by global audiences.
The group will also hire an outside agency to oversee marketing and advertising, expecting that Balenciaga's new fashion show, scheduled for 5 March in Paris, will put the focus back on the clothes rather than the hype surrounding them. After all, fashion is no stranger to such scandals. Consider Dolce & Gabbana's 2018 ad campaign in China, which featured models struggling to eat Italian food with chopsticks, which was criticized by local celebrities and on social media as racist and led to the brand being removed from Chinese e-commerce. In the same year, a display in a Prada shop in Manhattan showing items with 'blackface' images caused an outcry, prompting the company to hire a diversity manager and train its employees on racial equality. It remains to be seen whether 'time heals all wounds' or whether the infallible social media memory will not forgive Kering for its frequent faux pas and, above all, whether a head of 'brand safety' will not prove detrimental to the creativity of any brand.