Chloé's new project will give clothes a digital identity card
The program, in collaboration with Vestiaire Collective, will be able to trace the history of each garment sold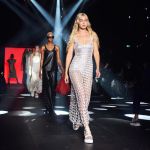 Following its announcement last October, the Richemont group's Chloé Vertical program will be launched at the presentation of Chloé's SS23 ready-to-wear collection, with the aim of making the French house's products circular. Through a new traceable technology - in the form of a QR code or an NFC tag embedded in the clothes - customers will be able to obtain a digital ID listing the information they need to repair and store Chloé products in the best possible way, as well as the materials that were used to create them, and their provenance.
The exclusive partner of this project will be Vestiaire Collective, which will be in charge of the resale management of the ID-carrying garments. After sellers upload images of the item onto the company's app, along with the certificate of authenticity contained in the digital ID, it will offer them a price and then send them a voucher to use at Chloé, Vestiaire Collective or as a donation to UNICEF, even before their item is sold.
«I am delighted to give Chloé customers around the world the opportunity to make informed decisions about the transparency, traceability, and circularity of our products,» said Chloé president and CEO Riccardo Bellini. The traceability technology used by Chloé is not new but represents a remarkable breakthrough for sustainable fashion. By letting customers know the materials that created the item, the program makes the product disposal process easier, offers more transparency to customers, and promotes conscious shopping. Chloé plans to make all of their products traceable by 2025 but has already disclosed to the public the producers of their materials, such as leather, sourced from French farms and processed in the Haas tannery, and wool, supplied by creative director Gabriela Hearst's Uruguayan family ranch.