5 moments from Paco Rabanne we will always remember
From fashion as armour to Space Age style for Barbarella with Jane Fonda
Paco Rabanne, the Spanish-born fashion designer synonymous with space age aesthetics and best-selling perfumes with elegant gold flacons, has died in Portsall, France, aged 88. This was confirmed by the Spanish Puig Group, which controls the fashion house and his perfume company. Rabanne was born in 1934 on the outskirts of San Sebastián in Spain (near the birthplace of Cristóbal Balenciaga, for whom his mother worked as a seamstress) and lived in France at a young age as a refugee from the Spanish Civil War. At the age of 17 or 18, he began studying architecture at the École Nationale des Beaux Arts in Paris, designed jewellery and buttons, and then plunged into fashion, initially with little success. «Most fashion designers gave me the cold shoulder» he recalled. But Elsa Schiaparelli, Balenciaga and Hubert de Givenchy took him on, as did Roger Jean-Pierre, a jeweller who supplied couture. Famous for his flamboyant personality - on television he claimed to have lived several lives, including that of a prostitute in the time of Louis XV, to have known Jesus, to have seen God three times, to have been visited by aliens and much more - his aesthetic certainly reflected his temperament. Bejewelled dresses, chainmail, edgy looks that have dressed the most important personalities since the 1970s and that today form an endless archive of proposals. To celebrate one of the most brilliant personalities in the history of fashion, we trace five moments in her career that will forever remain etched in the collective imagination.
The debut in 1966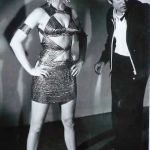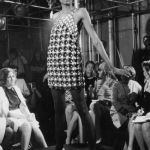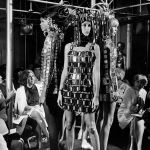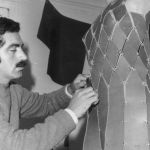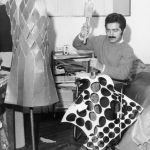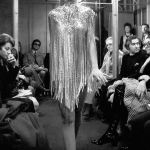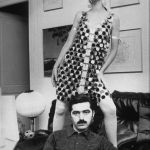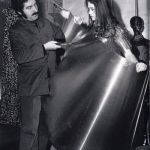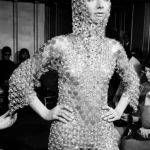 At the age of 30, Rabanne presented her first fashion designs. Just two years later, in 1966, she debuted with her first show, provocatively titled Twelve Unwearable Dresses in Contemporary Materials. Presented at George V in Paris, the collection completely broke with the conventions of the time by using music (an unusual choice for the time) and incorporating coloured models into the line-up. As Vogue reported, claiming that 'sewing is slavery', she made her clothes not from fabric but from eco-friendly paper, plastic and metal, which she assembled with wire and glue (she later sold DIY kits consisting of discs, rings and pliers). Rabanne's dresses revealed more than they hid, but critics were not so much shocked by this riot of female forms as by his technique: 'Paco's Sewing Kit: Pliers and Thread', headlined the New York Times. His time-tested jewellery technique corresponded to an ideological demand of the time: «In France in the 1960s - he said in a 2002 interview - there was a similar women's liberation movement as in America... It was a time when women became warriors because they had to assert their desire for emancipation. Armour was almost necessary.»
Perfumes
In 1979, the designer launched Métal, a fragrance "for young women who love metallic accessories". In 1968, the Spanish PUIG Group acquired Paco Rabanne's perfume licence and began launching memorable fragrances, starting with Calandre in 1969, a bold and intense floral fragrance that directly challenged traditional perfumery. Since then, production has never stopped, with new products being launched year after year, including 1 Million, which has gone down in history as the world's most famous and best-selling men's fragrance.
Artists in Paco Rabanne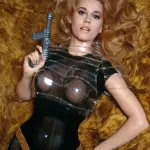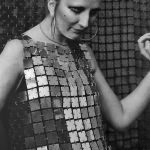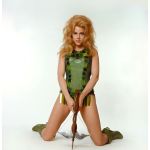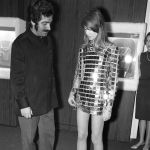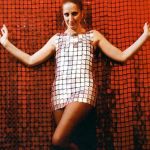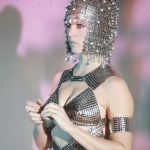 Brigitte Bardot wore Rabanne in the music video for the song Contact, Mina wore the designer's creations in several public appearances, as did Audrey Hepburn. But if there is one star who has truly gone down in history as the iconic face of the brand, it is surely Jane Fonda with her futuristic costumes in the 1968 film Barbarella, directed by Roger Vadim. The science fiction film is based on the comics by Jean-Claude Forest and reflects the playful and sometimes sly spirit of the comics, especially when it dwells on erotic details. In perfect keeping with the film's daring tone, Paco Rabanne created for Fonda tight metallic bustiers, tight-fitting jumpsuits, bodices with nude-effect plexiglass appliqués, silver astronaut-style jackets and sexy lamé outfits. A look inspired by the imminent landing of man on the moon, a cue that started a whole new trend in fashion, interpreted by Rabanne herself together with Courrégès and Cardin under the title Space Age.
The cult bag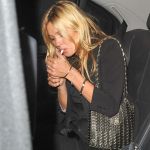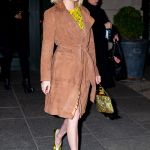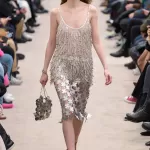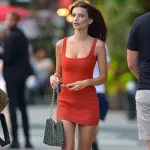 Coco Chanel was no fan of Rabanne, so much so that she called him 'the metallurgist' in a derogatory tone. The Le 1969 'it' bag was born as a joking response to this biting nickname. At the time, Chanel was working on a bag with a chain handle. In response, Rabanne decided to use a chain handle as well, but instead of using gold-plated links, he opted for a crude toilet flush chain. Ultimately, the designer was not concerned with creating clothes to wear: "The creation must shock," he kept saying. The Le 1969 shoulder bag consisted of a simple rectangular envelope made of coin-sized metal discs held together with rings. The reaction was immediate: Brigitte Bardot and Françoise Hardy carried it around town and even today, more than fifty years later, the coolest women in fashion wear it on their arms.
The y2k bikinis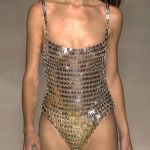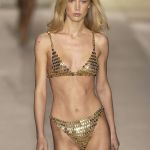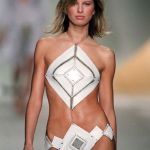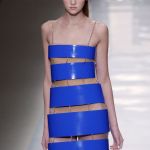 Y2k meant an interesting mix of glittery miniskirts, chainmail bikinis and dresses that revealed much more skin than they covered for the historic brand, in a time when making women sexy seemed to be the only ambition of designers. Among the most interesting creations of those years were the transparent PVC minidress with multicoloured polka dots, the chainmail with heart-shaped inserts and the (apparently very uncomfortable) metallic bikinis casually worn by a Karolina Kurkova in her prime for SS04.