Rock n' roll, cowboys and that constant gothic touch: history of Number (N)ine
Grunge according to Takahiro Miyashita
«The clothes are somewhere between rock 'n' roll, cowboys and that constant gothic touch» says Tim Blanks as he walks through the dusty basement that houses the Ebisu emporium of Takahiro Miyashita, the enfant terrible of Japanese fashion who launched Number (N)ine in 1997. A disjointed vision of tailoring that has earned him an ever-growing following, a passion for the rock aesthetic that contributed to the birth of indie sleaze, ironic T-shirts that combine mainstream aesthetics and cultural references reserved for the few: If you had to sum up the legacy of the brand that managed to condense all the grunge of the 90s, these would be the main points. But Miyashita's creativity does not stop at viral moments, which have made a comeback in recent years with the rise of archival fashion on social media. It goes beyond the red and black striped jumper reproducing Kurt Cobain's favourite for AW03 or the American flags and rosaries typical of Axl Rose's style in SS06. If Number (N)ine is still the ultimate icon of independent fashion more than ten years after Miyashita's departure from the brand, there are many reasons why.
Takahiro Miyashita, born in Tokyo in 1973, came to the United States at the age of 16. By then, he had already been assisting stylists for magazines in his home country after being expelled from school for marijuana use, as he told T Magazine in a 2007 interview. «My family was not very rich, so sometimes I had to buy vintage. After I turned 10, I would go shopping whenever I could and buy clothes. I liked everything that had to do with clothes: music, films, people, drawings, architecture. Everything. I saw some Coppola films, for example, which made me buy a lot of jeans, T-shirts and bandanas» he tells Ssense. Even at a young age, Miyashita spends most of his money on clothes while working in the busy Harajuku district, the melting pot of the cool kids of his generation. He learns to design and sew as a self-taught designer, playfully deconstructing garments from his own wardrobe, until he lands a contract with Keizo Shimizu's Nepenthes, the Japanese-American parent company of Needles and Engineered Garments. Then the doors opened to the States, where Miyashita immediately fell in love with Portland, the realm of weirdness, industrial warehouses, underground music and drugs: a love story told in the AW08 collection named after the city of Oregon. Finally, Number (N)ine was born in 1997, the same year Ebisu opened its doors in Osaka, a little away from the Ura-Harajuku shops that focus on streetwear like Nowhere. In the dusty basement that Tim Blanks talks about, a parallel universe opens up amidst old stacked televisions, dolls with buttons for eyes and skulls of Tibetan monks for morning prayers.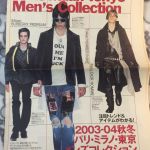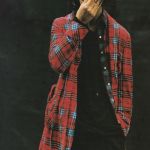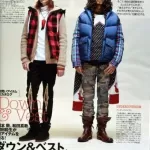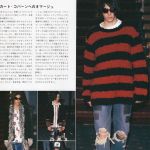 With a total of 21 unique seasons from 1999 to 2009, the shows are split between Tokyo (2000 to 2004) and Paris (2004 to 2009). The designer's relentless fixation on rock 'n' roll is evident in each collection, especially in the names he gives each collection, a habit Hedi Slimane uses extensively: Touch Me I am Sick by Sonic Youth, Nowhere Man by the Beatles, New Morning by Bob Dylan. The tag itself comes from Revolution 9, the Beatles' song from the 1968 album of the same name, now commonly known as The White Album. A highly experimental track by John Lennon, Paul McCartney and Yoko Ono, much of the sound is mixed with ambient noise, loops and a recording of a man obsessively repeating "Number 9, Number 9, Number 9..." Lennon described the song as: «an unconscious image of what I think is actually going to happen when it happens; just like the design of a revolution». Indeed, if the song was intended as a sound revolution, for Miyashita it was a dress revolution.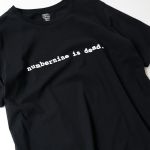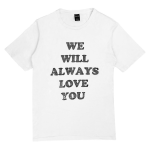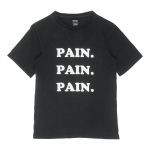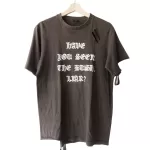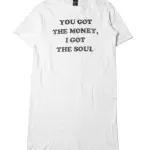 His early collections looked like a psychedelic mess: it was as if someone had blindly ransacked Kurt Cobain's wardrobe, it was grunge, believable but at the same time far too confusing. Slowly, as Miyashita absorbed his later influences from Bob Dylan to goth, this eclectic vision crystallised into something decidedly more mature: exquisitely structured blazers, tailored draperies, waistcoats, darts, giant wooden crosses, the union of ubiquitous America and the minimalism of the rising sun. In recent years, there has been a rise in Victorian elegance that borders on steam punk. But despite the trend towards far more serene shades, a certain tragedy remains in his creations, perhaps the legacy of his mental health problems, which are a constant theme in his production, even with a dedication to the doctors treating him on the back of the SS03 T-shirts: «I express what I want to say in the clothes. For me, a show is the best way to express my feelings.»
To journalists, he had a habit of deflecting overly profound questions about his creative process with a standard reply - «you'll have to ask my brain» - as if his creations were a message delivered by a higher creative intelligence, and he himself merely the humble messenger of a far superior will. Like the rock stars he idolizes, Takahiro Miyashita offers the public only enough information to feed the cult that surrounds him, consciously or unconsciously, but not enough to become a solved mystery in the eyes of his fans. And perhaps that's why, from 20 February 2010 to the present day, when Miyashita announced he was leaving Number (N)ine on the anniversary of Kurt Cobain's death, his legacy persists, including through his current brand TAKAHIROMIYASHITATheSoloist, but mostly through the archive of a brand that has managed to crystallize the cultural atmosphere of grunge, Portland and 90s fashion.